Hollywood Legend Phil Rosenthal Discusses 'Somebody Feed Phil'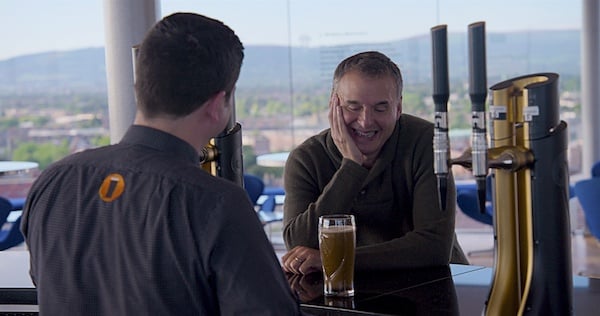 Tell me about your new season of Somebody Feed Phil.
"The Second Course" is filled with more adventure than the first, meaning I step a little further out of my comfort zone. I'm thrilled to have people see our take on Venice, Dublin, Buenos Aires, Copenhagen, Cape Town, and New York. New York was a personal one for me since I spent half of my life there and it's where I'm from. I was driving myself crazy thinking about how to make the perfect NYC episode, but then I realized you can't – there's so much that's been done already and even more to see, so I realized I could only show viewers MY New York.
And each new place is filled with incredible people, unique experiences, and of course, a lot of eating.
How has the show evolved since season 1?
I haven't seen a lot of the world yet and I'm trying to get it all in while I'm still able. With both the first and new rounds of episodes, I'm starting with the popular places: Earth's Greatest Hits. I'm very much a tourist and I think people relate to that, so visiting a place like Italy or NYC is more comfortable for a first-time traveler. As you get more comfortable with traveling you naturally get more curious – so you throw in a few that are different like a Tokyo or Copenhagen. It's one of the great things travel does for you – the more you do it the more you want to do it. As I get comfortable I want to see the more exotic places like Marrakesh, Istanbul, Shanghai, New Zealand. I'd love to have viewers explore and grow in their travels with me, and most of all, I want you to go!
What are some memorable moments of filming? // What's the biggest challenge of doing the show?
I feel as though some of the biggest challenges are also the most memorable moments. Overall it has to be trying any  new thing on camera.  I'm not an expert, a great chef, even a great world traveler – I'm a simple tourist out there to explore. I  feel, because the camera is on me, I do have an obligation to put this in my mouth. I had to eat ants. And you know what happened? They weren't too bad. I rode a horse on camera and I promise, I'm no horseman, but probably the most terrifying thing I've done so far is also coming up in the Buenos Aires episode — my first tango lesson. Nobody wants to look terrible, but sometimes you have to go for it and experience it so other people won't be afraid. Sometimes, when you go just a little outside of your comfort zone, that's where your greatest experiences can happen. And I think people can watch somebody like me and say "if that guy can go outside, maybe I can too."
Who do  you want to have guest star next season?
I'm lucky to have friends I love, and family, they're all welcome, plus I love every person we've already seen, they're welcome too, and anyone new, too. Basically, everyone should just come with me.
Where are some additional places you want to visit?
Definitely London, Marrakesh, Istanbul, Shanghai, and New Zealand. They're all unique in their own ways and I'd love to continue exploring outside my comfort zone.
What is a fun fact that would surprise people?
I'm a former wrestler.
(Not true)
I'm a model.
What are you watching on tv these days?
All the late night shows help keep me sane. I love Killing Amy, and really looking forward to all the new Comedians in Cars Getting Coffee, (which premieres same day as us). I'm hoping when Jerry runs out of celebrities, he'll have me on.
Anything else you want to tell America?
My only wish is that I hope the show inspires you to travel. The six new episodes start July 6th on Netflix and we'll also be posting every place I visit on our new website: www.PhilRosenthalWorld.com