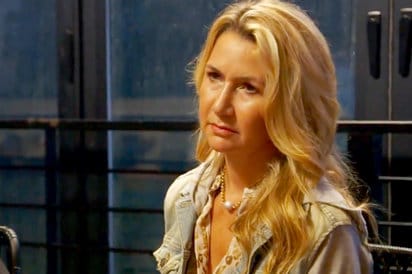 Read Time:
3 Minute, 14 Second
The Real Housewives of Dallas Recap for Straight Outta The 80s
This week's Real Housewives of Dallas opens with a throwback to the primetime soap Dallas, complete with the music and the gang going to Southfork Ranch. #Jealous. The only thing missing is the bourbon and the Ewings.
JR would have been an awesome house husband, no?
Getting a tour of the mansion officially put going to Southfork on my travel bucket list.
SHA-SHA SHA, SHAMAN!
Before we get to the visit (and find out which one of these women would have shot JR), we see D'Andra meet with her shaman Darren. She wants to be able to control herself when visiting her estranged family. He does a whole cleansing ceremony and it is actually quite interesting. I am not sure about burning that yummy looking trail mix and that hat, but hey, you do you!
SPA-ING WITH TIFFANY
Tiffany enjoys a COVID-friendly home spa day with her daughters. She says this is a dream come true and something she wishes she could have done with her mom. As they all get their mani-pedis and facials, Tiffany look back on how well things have been going in her life and hopes things don't change or take a turn for the worst.
COOKING WITH KARY
Kary and her daughters take a Mexican cooking class, which actually looks like a lot of fun. As they cook, Kary talks about how excited she is for Olivia to go back to college, even though she will miss her. She is also glad Olivia is doing better and that they are all mending their relationship.
The girls decide to call Kary's mom via FaceTime so she can join their special night.
However, the good times are short lived, as it looks like Kary ends up drinking too much, breaking things and having accidents.
FAMILY FRICTION
D'Andra calls Mama Dee via FaceTime to discuss meeting the estranged family. She thinks Mama Dee is gaslighting her and trying to rile her up, which frustrates her, even though she knows she loves her. Jeremy is also there and shows concern. The two of them talk it out before she leaves to go meet her stepmother.
Jeremy goes with her and waits in the car before picking her up in front of a Starbucks. We don't see the meeting due to the family not wanting to be filmed, but it looks like there won't be a relationship in the future. There is still a lot of animosity due to what went on after her dad died. Her brother doesn't want a relationship at all and things are still dicey with her stepmom.
SOUTHFORK SASSINESS
Brandi spends time with her daughter Brinkley and helps plan the visit to Southfork. It is going to be 80s themed and everyone is planning to get all decked out.
Cue fashion montage from the ladies.
The day of the trip, Brandi gives them all wine sippy cups and spiked lemonade. They all leave in a limo, ready to party like it is 1980!
The mansion looks incredible and I have super amazing flashbacks to watching Dallas with my mom as a little girl. #IKnowWhoShotJR.
After a tour of the mansion, everyone goes to their room to get ready for the night. As we watch them get all glammed up, we see pictures of them as kids in the eighties.
THE KARY DID IT?
The 80s party ends up being a fun murder mystery night. However, there is a bit of tension because some of the girls are dancing on furniture in their shoes.
Everyone is given their roles for the night and the fun begins, complete with flashbacks of Kary threatening to kill people. Gunshots are heard….and we have to find out next week to see what happens!