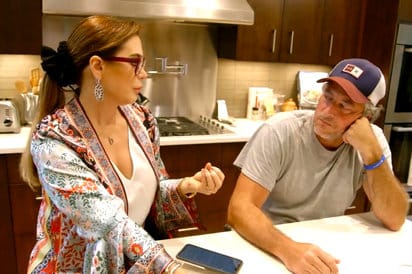 Read Time:
2 Minute, 52 Second
The Real Housewives of Dallas Recap for A Doggone Mess
Tonight's episode of The Real Housewives of Dallas picks up where we left off with Kary and Stephanie making up. The ladies then do a Redneck Relay, with Kameron, Brandi and Tiffany(Pink Posse) vs Stephanie, Kary and D'Andra (Jim Bob's Babes).
Tiffany wonders if the word redneck is culturally appropriate, but Stephanie assures her it is fine. Kary thinks they need to be drunk for this, especially since the losing team has to go into a 'pile of crap,' as Stephanie puts it.
The ladies then stretch, complete with the bend and snap when Charles returns. He plans to join them for dinner, but it is also Stephanie's way of making Kary apologizes. It works….kind of…..she says sorry, but makes excuses until Stephanie calls her out. She apologizes again and they hug it out.
Let the games begin….which include swing your ding-a-ling, a toilet paper game and tug of war, Oklahoma style.
Jim Bob's Babes win and are given Gold Toilet Seat Medals. Pink Posse goes into the hot tub, covered in the 'pile of crap.' They then spray the others with water.
Later on, Stephanie and Brandi scare the other girls during a thunderstorm dressed as Bigfoot. Tiffany and D'Andra release stink bombs as revenge. Kary and Brandi then toss juice and salsa on the bed to get even more revenge.
However, it ends up being on Kameron's bed, making her very upset and wanting to get a hotel.
The next morning, the girls clean up and freak out over the pig meal from the night before. They jump back into the hot tub, with Brandi dressed in her Bigfoot costume.
When it is time to clean again, D'Andra and Tiffany talk about their moms. Tiffany wishes she had someone like Mama Dee, so D'Andra gives her some advice on how to handle things with her mom.
When the ladies get home, they all spend time with their families. Kameron has a medium come over to channel her dead dog Louis, who says he is okay and happy that Fanci is with the family and enjoying his old things. He will also be joining them in the new house.
D'Andra tells Jeremy that her stepmother emailed her, which says they should meet privately to discuss the past before her brother meets with her family. She doesn't know what to do, so Jeremy tells her to meet with her, because either way she will get closure.
Kameron packs her house and finds memories of her time with Louis the dog.
Tiffany makes dumplings with her family, including her mom, who says she won't eat with the family since Tiffany's dad is working. This makes Tiffany very upset because she wanted more time with her mom and because this was supposed to be her birthday party.
However, she convinces her to stay, which leads to them talking about Tiffany's childhood and feelings about her relationship with her mom. They both end up crying and hugging each other, with Tiffany's mom saying how proud she is of her. They also promise to have more mother daughter time, which will also include Chloe and Maddie.
More next week, stay tuned!