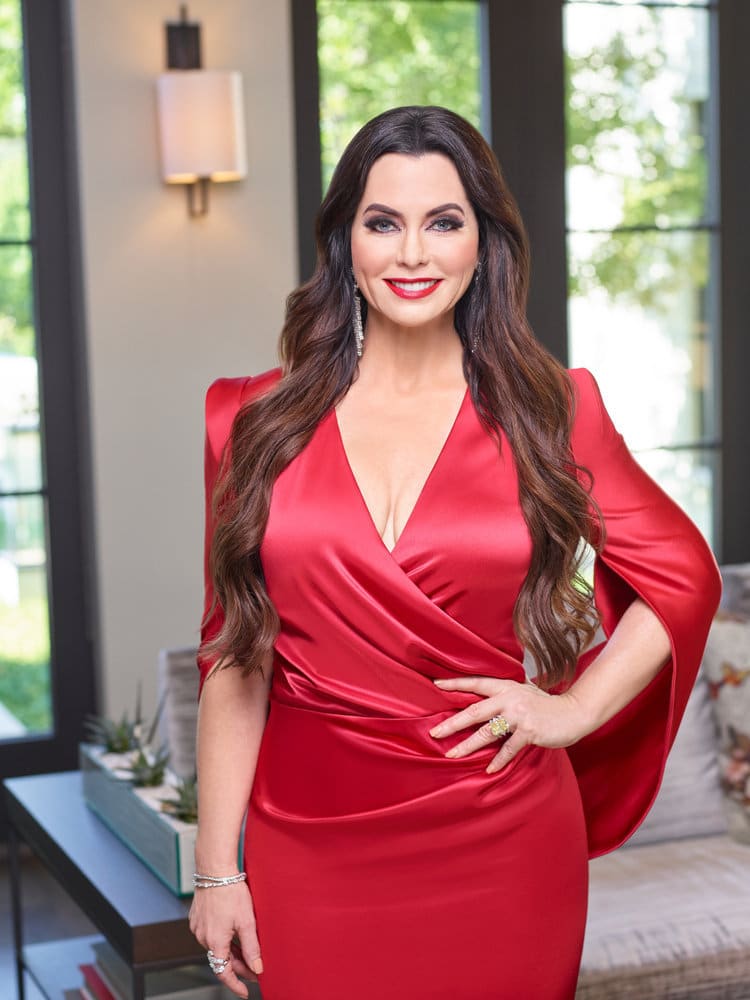 Read Time:
4 Minute, 20 Second
Real Housewives of Dallas Recap for RV Having Fun Yet?
Tonight's episode of The Real Housewives of Dallas picks up post luau as the women settle back into their everyday lives. Check out the highlights below!
KAMERON:
Kameron's children and husband practicing Spanish and wondering if they should teach the dog.
Later on, she teaches them how to make the perfect peanut butter and jelly sandwich with expensive jelly and room temperature peanut butter. She also talks about how she is making sure Cruise and Hilton know how to do chores.
Her husband Court is secretly planning on getting her her dream house, but trying to throw her off the scent. He puts her in the car and makes her think things aren't working out. However, she gets upset and wants to go home. Court tries to get her to calm down until they arrive at the house. She refuses to get out when they arrive, but he finally convinces her…..and tells her the house is theirs.
Kameron is THRILLED and goes around the house in excitement, especially when he says she can be a part of the closing process.
KARY:
 Kary and her daughter Olivia make Jell-O shots for camping. Olivia isn't that knowledgeable about them, so she asks Kary when they were popular. They bond a bit over darties (day parties), with Kary admitting camping is being in a hotel with no room service. Hence, the shots!
TIFFANY:
Tiffany's daughters Maddie and Chloe turn six at one of their hotels. She is thrilled to be celebrating on their actual birthday for a change.
As a special treat, Tiffany lets them get their hair and makeup done by the glam squad. She thinks they are too young, but lets them do it just this once.
She worries about them wearing too much makeup, but is happy that they would rather be smart than pretty.
Tiffany's mom comes to give them gifts. The girls open theirs in front of Grammy, but Tiffany admonishes them for being rude. However, Grammy says that it is okay and Tiffany wonders what happened to her mom since she is being so chill.
The Princess Tea Party begins! Tiffany hopes that the girls remember this day and is glad to be making fun memories with them as they celebrate, eat and of course mind their manners!
However, things get tense when Grammy begins to make condescending comments. She says people never see this side of her mom and wonders why she acts like something is a good idea and then make said comments.
A few days later, she goes to talk to Mama Dee to get some advice on what to do about her own mom. She brings up how her mom says one thing, does another or breaks promises.
Mama Dee tells her that she is a wonderful person, but she needs to really talk to her about what she wants in their relationship. Tiffany worries about being rejected, but Mama Dee tells her that at least then she will know she did all she could do.
D'ANDRA:
She gets a call from Brandi, who is showing off the mess her dog made. She tells her own dog Dixie not to get any ideas. They decide to make plans to meet up to talk about their issues before the trip.
Later on, she sets off the fire alarm trying to plan a special date night for Jeremy. He tells her to let it go, but she is upset because it is one more thing that went wrong. They end up cooking together and enjoying their sexy date night.
During dinner, she talks about being a better person and how she hopes her friends realize this as well. She feels bad because the date was supposed to be about Jeremy, but he assures her it is fine as they jump in the pool.
BRANDI:
As Brandi gets ready to meet with D'Andra, she checks her emails. She opens one and sees D'Andra talked to the press about how Brandi is addressing the racist video head on. She is disgusted and cancels the meeting via text.
D'Andra gets mad about it, saying that she told the press positive things and that Brandi is being a baby.
On the day of the trip, Brandi gets dressed up to drive everyone to Oklahoma. Stephanie says that she cannot drive, so she is trusting Brandi.
STEPHANIE:
Stephanie plans a trip to Oklahoma for the girls, which includes the women learning about Bigfoot.
On the day of the trip, she talks to Brandi about the D'Andra debacle. However, she is excited about the trip and tells the women to expect some surprises as they arrive to her house.
Unfortunately, the trip is off to a bad start because D'Andra and Brandi begin fighting over the interview. Kary tells her to take accountability, while Brandi says she is selfish.
D'Andra goes off on them and thinks they are ganging  up on her….but we will find out next week what happens.