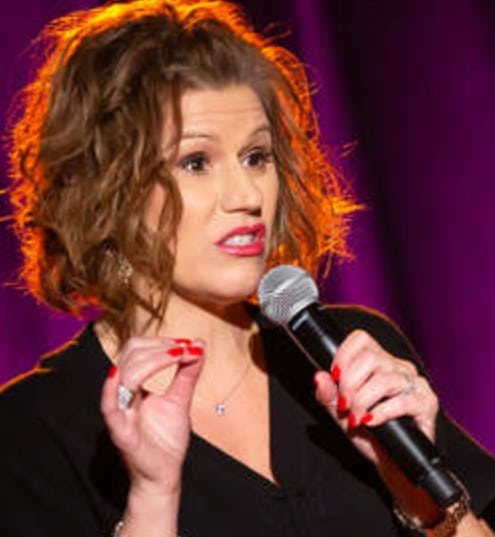 Read Time:
2 Minute, 17 Second
This Saturday, Showtime will air a comedy special called Funny Women of a Certain Age. Hosted by The Nanny's Fran Drescher, the special showcases female comedians who represent the older,wiser generation. 
One of the comedians who will be featured is Kerri Louise. Her youthful energy and 'mommy' personality make her stand out in a class of her own. 
TVGrapevine recently caught up with the talented funny lady in a recent exclusive interview. Below are some of the highlights from our chat. 
1. She is the youngest comedian featured in this special. While she wasn't sure if she would make the it age wise, she was welcomed into the special with open arms. for her, it is an honor to be included in the special and she loved every moment of it.
2. Everyone got along very well.  Kerri says that there were no divas involved in the special and everyone was willing to help each other from hair and makeup, moral support and everything in between. She says the venue where the event took place was very small,  so there were no private dressing rooms, just one room for all of them to get ready. This allowed for them to bond and get to know each other better. 
She thinks very highly of the women who were involved in the special. She said that everyone on the show was very loving and supportive and that it was an honor to be working with them. 
3. Comedy runs in her family! Her husband is Tom Cotter, who is best known for his appearances on America's Got Talent. While the two of them do different types of comedy, the laughs are always there.  Her teenage twins are also funny,  but not pursuing anything at this time. She quips that she needs a lawyer or a doctor in the family and sometimes tells them their own jokes after they told them earlier in the day.
4. She is a host and author! In addition to her stand up comedy, Kerri has a 'Mommy Minute' vlog where she talks about her life as a mom and the hijinks that ensue. (The show can be found on YouTube and her website kerrilouise.com). Her book is called Mean Mommy  and is a no holds barred, hilarious take on motherhood. It can be found on Amazon. 
5. Her current favorite TV show is The Marvelous Mrs. Maisel. She loves it not only because of the time period, but also because she can relate to it as a comedian. She also  loves America's Got Talent and supporting any show her friends are involved in. 
Funny Ladies of a  Certain Age airs Saturday on Showtime. Check your local listings for airings.