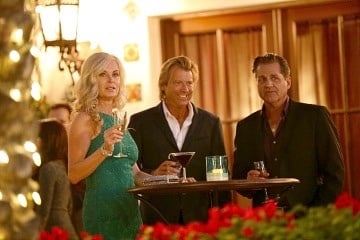 Read Time:
1 Minute, 43 Second
If you are a fan of daytime TV, chances are you know of Eileen Davidson. She is best known for playing Ashley Abbott on the longtime soap The Young and the Restless. She also appeared on The Bold and the Beautiful (as the same character) and Days of Our Lives (as Kristen DiMeria). She also is known to reality TV fans as one of the Real Houswives of Beverly Hills.
Now the legendary actress is promoting her newest movie, Walk To Vegas, which was created by her husband Vince Van Patten. The movie is based on a true story and dives into the world of high stakes gambling. Eileen says she is proud to not only star in the film, but to also finally have the chance to work with her husband.
As for how the film came about, it was quite simple and sweet. The two of them were out rollerblading one afternoon when she brought up the idea of making a movie about the gambling world. She thought that since he has been playing poker since he was twelve and is the co-host of World Poker Tour, it would be a good fit. He agreed and before long, the movie was born.
Eileen's role in the movie is the wife of her husband character, Duke. She says that filming together was a wonderful way to help them bond as a couple in a different way. She admits that them working together was a challenge, but she enjoyed this special time in their lives. She also had nothing but good things to say about the cast and crew, which also includes Vince's brother James Van Patten, Willie Garson and Jennifer Tilly.
So what's next for Eileen? She is currently enjoying life and opportunities as they come and considers this new year to be a fresh start. She says that she has no plans to return to Y&R or Housewives, but she will never say never!
Keep checking back for more movie news as it comes along.