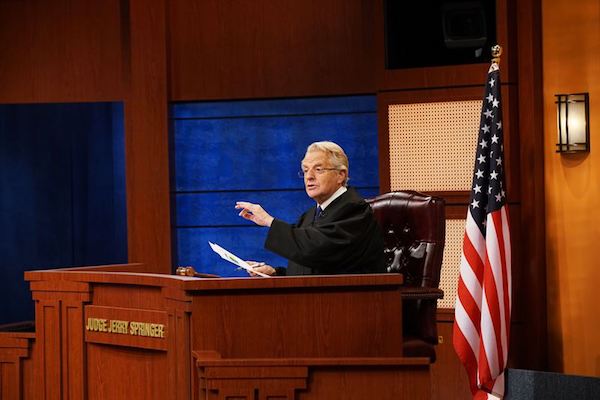 Read Time:
3 Minute, 5 Second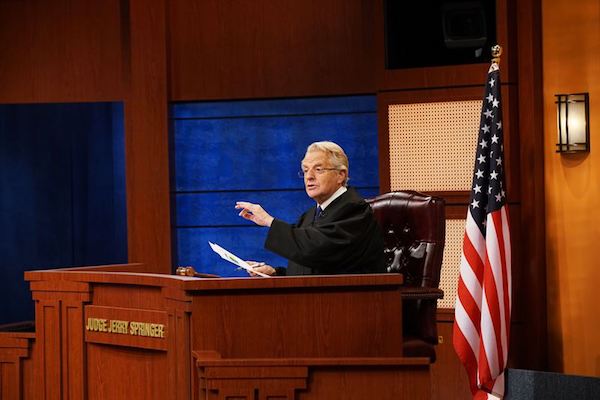 NEW YORK – Nov. 26, 2018 – NBCUniversal Television Distribution will launch "Judge Jerry," a daily, first-run half-hour court program debuting in national syndication in fall 2019. Tracie Wilson, Executive Vice President, Creative Affairs, NBCUniversal TV Distribution made the announcement.
"Judge Jerry" has already been sold in 75% of the U.S. to major station groups, including Tribune, Sinclair, Weigel, Hearst, Cox, Sun Beam, Block, Raycom, Tegna, Scripps, Meredith, Capital and more.
"'Judge Jerry' will merge Jerry's talent for connecting with people, his incredibly relatable and funny personality and his legal training and governing experience to bring viewers a more entertaining court show," said Wilson. "We are so happy to continue our fantastic partnership with Jerry, who is a proven TV icon with a dedicated and broad fan base."
The iconic Jerry Springer will slide from the stage to behind the bench using law and order to settle disputeson his new show. "Judge Jerry" will take on actual cases from real people. In each episode, Judge Springer will hear cases and render a verdict with a fair yet firm hand and always leave litigants with a dose of classic Springer wisdom.
"For the first time in my life, I am going to be called honorable," said Springer. "My career is coming full circle and I finally get to put my law degree to use after all these years."
"Judge Jerry" will be taped in front of a live studio audience at the Stamford Media Center in Connecticut. The Stamford Media Center is also home to long-running and successful NBCU talk shows "The Steve Wilkos Show" and "Maury." "Judge Jerry" will be produced and distributed in the U.S. by NBCUniversal Television Distribution.
ABOUT JERRY SPRINGER
Throughout an illustrious career, Jerry Springer has become a cultural and civic icon. Springer's notoriety is due in large part to hosting his eponymous show for over 27 seasons, which is still on the air.
Prior to his work in entertainment, Springer began his career as a lawyer having received his law degree from Northwestern University. He joined a law firm in Cincinnati and began practicing law, which he would continue to do for over 15 years. However from the start, Springer was politically minded, largely inspired by Robert Kennedy. Springer spearheaded the movement in Ohio to lower the voting age from 21 to 18 and provided his testimony in front of the Senate Judiciary Committee prior to the ratification of the 26th Amendment to the Constitution. He then served on the Cincinnati City Council for five terms before becoming mayor of Cincinnati at the age of 33.
After his tenure in law and government, Springer began his career in front of the camera. He was the anchor and managing editor the Cincinnati NBC affiliate, WLWT. It was there that Springer caught the eyes of several executives and was offered his own talk show, "The Jerry Springer Show," which was sold into national syndication.
ABOUT NBCUNIVERSAL TELEVISION DISTRIBUTION
NBCUniversal Domestic Television Distribution is responsible for the production, sales and distribution of NBCUniversal products to broadcast television within the United States. The division develops and produces first-run programming and distributes these shows, along with off-network content, in broadcast syndication. Current first-run broadcast syndicated programming includes "Steve," "Access," "Access Live," "Maury," "The Jerry Springer Show" and "The Steve Wilkos Show," and in fall 2019 the division will premiere "The Kelly Clarkson Show." In addition, the division distributes the retro television broadcast network Cozi TV and weekend syndicated series "On the Money" and "Open House." Current off-network programming includes "American Ninja Warrior," "Law & Order: Criminal Intent," "Law & Order: Special Victims Unit," "Chicago P.D" and "Dateline."