The Real Housewives of Potomac Snark and Highlights for 1/29/2023
The Real Housewives of Potomac Snark and Highlights for 1/29/2023
Tonight's episode of The Real Housewives of Potomac focuses on Robyn finding her wedding dress, the Mexico trip aftermath and a bachelorette party for the books. Karen's character is also questioned as rumors surface about her marriage.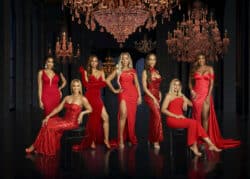 Robyn's storyline du jour is playing Say Yes to the Dress. We are just missing our boy Randy!
An upscale dinner with strippers sounds like….any normal bachelorette party? I haven't been to many, but I know that some involve strippers, dinner and penis decorations. Be more creative, ladies!
Karen and Wendy are not invited to said party. In other news, water is wet and the sky is blue.
I find it a bit in poor taste that Robyn is having all these women at a bachelorette party and none of them are invited to her wedding.
Chris seems to really be interested in Candiace's life and wanting to celebrate her success. It is really nice to see that, especially since they have had a lot of ups and downs as of late.
I love it when Chris gives sarcastic reactions to the drama between the ladies.
Again, it is really rude to tell people about a party knowing full well they are not invited.
I would love to hear Wendy speak one day at an event, she seems so amazing.
Ugh, all the screaming and BS during the bachelorette party is really annoying. This episode is not one of the best this season, sorry to say.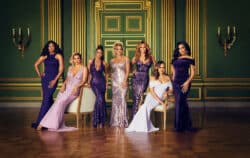 This has to be one of the most annoying episodes of the series, I cannot deal with all the screaming.
Seeing Ashley so heartbroken over her ex being with another woman after he lied to her about it really is sad to see. They both have the right to date other people, but they also should be honest about it with each other.
That steak and lobster….does not look good at all….the plating is also very sloppy, which is annoying.
If Karen ever finds out what these people are saying about her, she is not going to be happy and will possibly react in a way that will put Teresa's table flipping to shame….and I cannot really say I will blame her when it happens.
It really annoys me that these women talk such crap behind everyone's backs, then clutch their pearls when questioned about it….or when it is done to them.
If this were my bachelorette party, I would feel very pissed off that it was being taken over by all this drama.
Next week is the season finale. To be honest, this season seems to have simultaneously gone by super slow, yet way too quickly. I have no clue how it is going to end, but word on the street is that something will be happening regarding Robyn's wedding, either as an add on to the episode or as one of the updates. I guess we will have to stay tuned and find out.
The Real Housewives of Potomac airs 8pm on Sundays, only on Bravo.