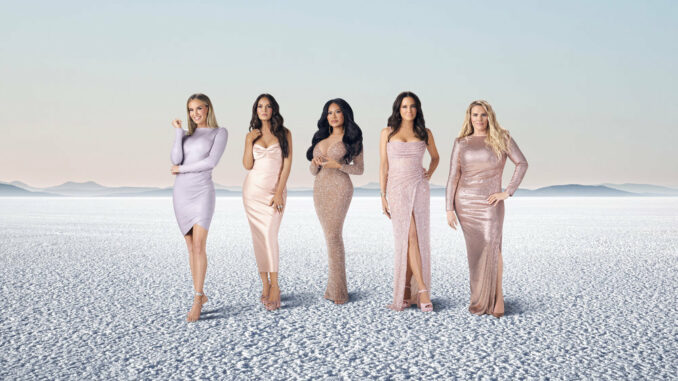 Read Time:
2 Minute, 42 Second
The Real Housewives of Salt Lake City Snark and Highlights for 12/14/2022
I guess the debacle with Jen carried on into the next day. I am with Lisa, I am sick of all of this as well. She also faced the most of Jen's wrath and anger for no reason.  #JusticeForBabyGorgeous.
Is Whitney really trying to defend Jen and justify her behavior? WTF?
'I am going to grab a Kit-Kat and get ready for the day.' This is why our Baby Gorgeous is the QUEEN of this franchise.
Jen's coverup is so gorgeous…..I have to give it to her, she knows her fashion most of the time.
So, Angie K and Jen are friends again….I am kind of surprised by this.
Heather still defending Jen (despite some reservations) to Lisa, who was PHYSICALLY attacked by her is such a crappy thing to do.
I am obsessed with that FAKE purse.
This beach day picnic looks amazing.
Surfing looks like fun, but I am too chicken to actually give it a try.
OMG, those stuffed mushrooms and the ravioli look so amazing…..I need to learn how to make stuffed mushrooms again.
Jen never wants to take responsibility for anything, does she? Lisa is trying to explain her feelings, but Jen won't even listen and keeps trying to justify her behavior.
Seeing Jen be so raw about her suicide attempt really breaks my heart…..Lisa and Heather really should have let it go at that point.
This Marilyn Monroe party looks like a lot of fun.
I think the waiter is the cutest, sweetest person we have ever had on the show. Can we get him to bartend on WWHL?
These women haven't even gotten their drinks yet and they are already fighting over….I am not even sure? The whole thing is messed up.
I am on Whitney's side here….Heather keeps deflecting and not letting her speak.
From what I gather, they all talk crap about each other and refuse to admit it and want to fight about it….just like high school.
Whitney is so justified in feeling hurt about Heather always forgiving Jen and giving her grace and constantly making Whitney feel like crap.
Heather is really channeling Rinna tonight, isn't she?
Wow, that condescending way of telling everyone to let Whitney talk really pissed me off. Why is Heather being so nasty?
I am so glad Whitney is standing up for herself and not accepting Heather's fake apology.
I like how Danna is more worried about where the tacos went than the actual fight.
Did they all leave without getting their food? Also, this other bartender just making drinks and smirking is giving off such a mood.
Did they all forget the fight and go to some club still dressed in their Marilyn outfits?
Now they are breaking glasses and randomly have a pizza. WTF is happening tonight?
WTF is happening in this episode? Tit flashing, twerking, straddling…..and they all hated each other an hour ago.
Who the heck was at Heather's door? That freaked me the hell out!
Holy crap on a cracker, she really got beat up….what the hell happened?
More next week, stay tuned!