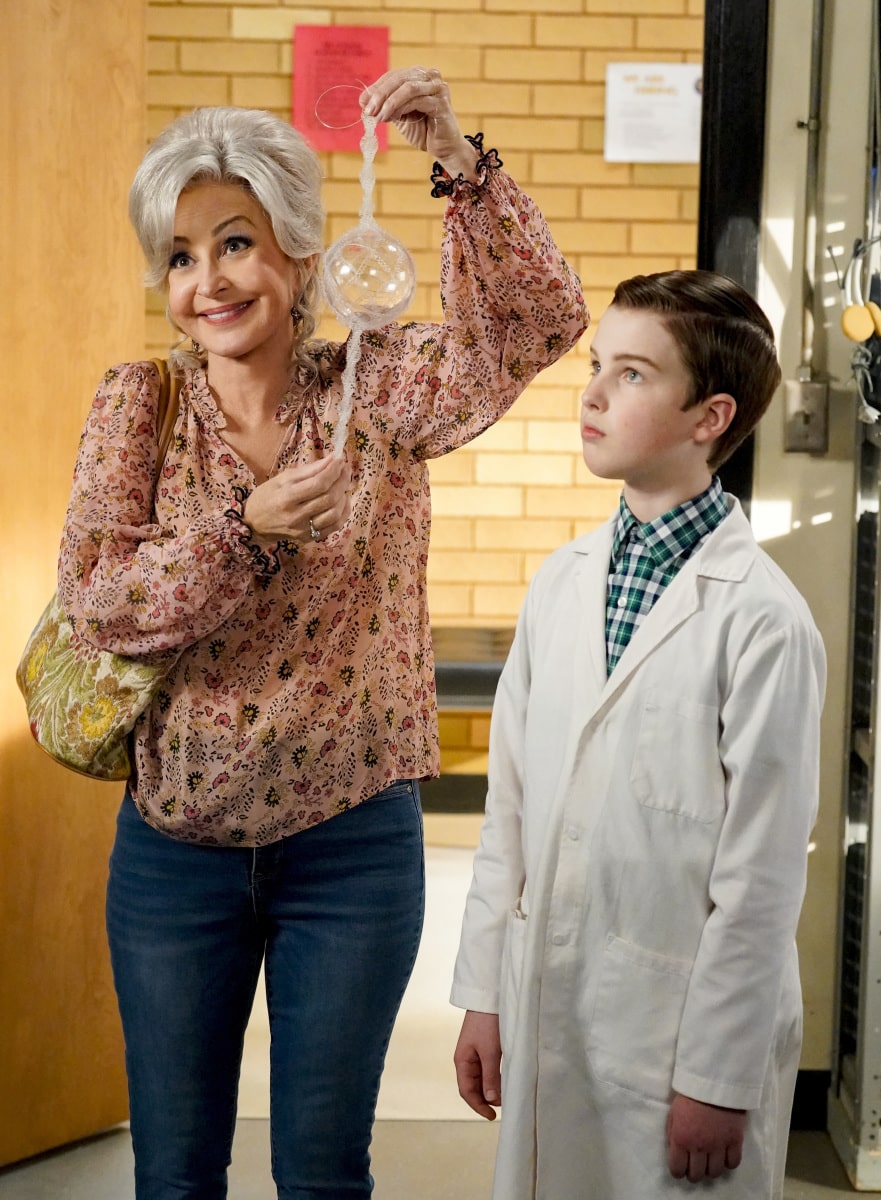 Read Time:
3 Minute, 9 Second
ICYMI: Recap for Young Sheldon A Box of Treasure and the MeeMaw of Science
The episode opens with Georgie (Montana Jordan) asking George (Lance Barber) for another hair dryer because his is broken. George tells him to use a towel. Georgie snarks that then his hair would look like George's, so he tells him to look in the garage. After Georgie leaves, George says that he likes his hair.
As Georgie looks for the hair dryer, he finds a box of Sheldon's old tests…..and sees a great way to make money.
Mary (Zoe Perry) is looking out the window when she sees Pastor Jeff (Matt Hobby) and Brenda (Melissa Peterman) walking. Missy asks what she is doing and why she isn't walking with them. Mary says she wasn't invited. She later on talks to Pastor Jeff about it, but he is more focused on the fact that another church is using one of their old slogans.
Sheldon (Iain Armitage) and Dr. Linkletter (Ed Begley Jr.) work on a science experiment when MeeMaw (Annie Potts) comes, wanting to help. She compares it to crocheting, which confuses Dr. Linkletter, but he is happy to have her on board. Sheldon, for his part, is thrilled that MeeMaw is now into science.
Georgie sells tests to kids around school for five dollars a pop. Even Tam (Ryan Phuong) buys one, saying that if he gets another B, his parents will kill him.
Mary, Missy and George eat dinner together. Georgie is out and Sheldon is working on the science project. Mary wants them to go for a walk after dinner, which is code for her spying on Pastor Jeff and Brenda. George doesn't want to and Missy lets it slip that Billy is having trouble in school. Mary decides to talk to Brenda after dinner. George is glad he doesn't have to go walking.
MeeMaw, Dr. Linkletter and Sheldon continue to work on the project. Things are progressing along smoothly, which makes everyone happy. MeeMaw is inspired by it, but not happy that there is no money involved. However, she gets really into it and begins to work on it via crocheting. She even dreams that she wins the Nobel Peace Prize as the MeeMaw of Science.
Mary calls Brenda to check in, but Brenda is not interesting in talking. She gives her short answers and quickly gets her off the phone.
Georgie asks George if he can use the copy machine for a project, but George says no. However, he offers to make copies for him, but Georgie vetoes that idea. This leads to Georgie going to school early to steal the key and make the copies himself. As he is doing this, he catches two of the teachers sneaking into the copy room for a hookup.
MeeMaw calls Dr. Sturgis (Wallace Shawn) to fill him in about the science experiments. He is thrilled until he finds out that Dr. Linkletter is involved. She assures him that nothing romantic is happening, so they talk about the experiment and Dr. Sturgis's new experience with breakfast burritos.
The experiment is done, so now it is time for them to see how it works. It takes a few minutes, but phase one ends up being a success. MeeMaw thinks it is neutrinos, but it ends up being radioactivity. She is disappointed and goes to wait in the car/
Mary goes to see Brenda, who admits not only is Billy having trouble in school, but her husband left her. She invites Mary in to talk.
Georgie is caught because he left the copies on the machine….but doesn't get into trouble because he blackmails the teacher.