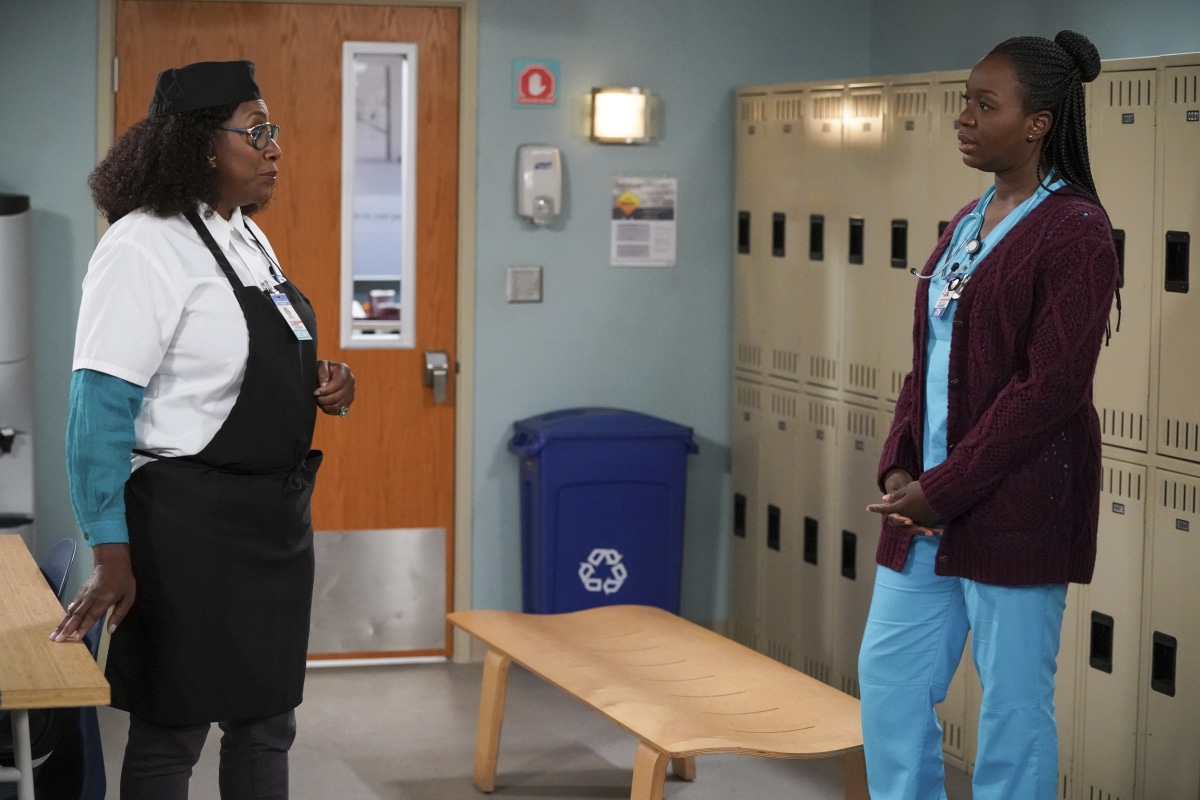 Read Time:
3 Minute, 15 Second
ICYMI: Bob Hearts Abishola Recap for A Big African Bassoon
The episode opens with Gloria (Vernee Watson) training Abishola (Folake Olowofoyeku) on how to do her job while she is away for two weeks. Abishola has her own special badge that she made, so Gloria reminds her it is temporary.
Abishola's mom calls, but she tells her she cannot talk because she is the boss. Gloria smiles as she leaves and Kemi (Gina Yashere) comes in to see what is happening. Abishola fills her in and has her take pictures of her working….and the charge nurse sign.
Later on, she meets with the nurses to give them their assignments for the day. She tells a nurse named Kathy (Annie Heller), she likes her, but calls her out on being unprofessional, which cannot happen if she is going to be the Abishola to her Gloria. Kathy runs off crying and Abishola tells her that she would not cry.
Bob (Billy Gardell) is making Dottie (Christine Ebersole) a sandwich, while she complains that it is taking too long. Douglas(Matt Jones) puts together Dottie's meds, only to get them confused. This leads to Bob taking over the task, while Christina (Maribeth Monroe) gets Dottie ready for her new Zumba workout.
At the hospital, the nurses are complaining to Kemi about Abishola, who chooses that moment to walk in. The nurses scurry out, with Abihsola wondering why. Kemi fills her in on what was being said, but Abishola doesn't think she is doing anything wrong.
That night, Bob has dinner with Tunde (Barry Shabaka Henley), Olu (Shola Adewusi) and Dele (Travis Wolfe Jr.). They talk about Abishola being the charge nurse and how she can move up in her career. Bob says there are a lot of thens and says that at least Olu and Tunde got to slow down. They argue that they still work hard and have future plans. Dele, for his part, plans to cure cancer.
Kathy comes to the nurses' station with flowers, causing Abishola to yell at her for being unprofessional. Kathy says they are for her, because her husband will not be that thoughtful.
Abishola calls Bob to yell at him for the flowers, which only sends him into a sea of confusion. She then tells one of the passing nurses to give them to the dying man in room 142…but  not before she snatches the card.
Two of the nurses whisper about Abishola, who tells them she knows what they are saying, thanks to Google.
Kemi is serving food when she finds Abishola crying in the janitor's closet. Abishola says the good nurses left and now she is left with the idiots. Kemi gives her tissues to wipe her eyes, while Abishola says she feels like a failure. Kemi gives her some words of wisdom and tells her to stay there because no one will miss her.
Dottie, Douglas and Christina eat McDonald's and talk about how much they miss Abishola. They end up calling her, but end up getting hung up on by her.
Bob talks to Kofo (Anthony Okungbowa) and Goodwin(Bayo Akinfemi) about his retirement plans, which leads to them debating about work and retirement. When the two of them leave, Bob decides that he wants to die on a boat.
Gloria returns to cheers and fanfare. She and Abishola have a discussion about what happened and Gloria explains what the job entails as she moves forward in her career. This leads to Abishola sending Bob flowers and him calling her to say thank you. As they chat, she says she has decided to switch gears and become a doctor. He is surprised, but supportive.
The episode ends with Abishola returning to the house with everyone being overjoyed and fawning over her.