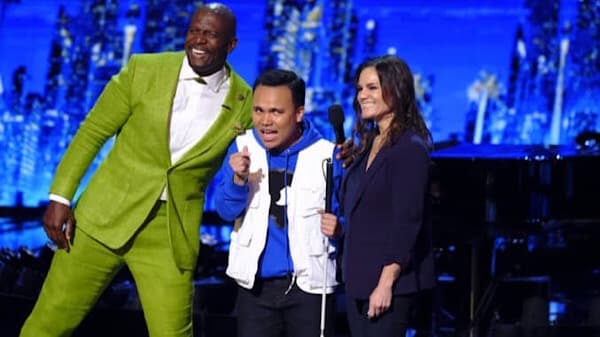 Read Time:
4 Minute, 23 Second
Welcome to  the first night of live shows on NBC's America's Got Talent. Twelve acts will perform, allowing America to vote for them and determine if they make it to the next round.
Terry Crews hosts, while Simon Cowell, Julianne Hough, Gabrielle Union and Howie Mandel judge.
G-Force: They are an all-girl dance troupe who want to be the next big thing. They are cute and kind of remind me of DWTS Juniors. They are fun to watch, but need to step it up if they want to impress if and when they advance. 
Simon tells them as much and says that while he liked their dancing, he wasn't a fan of the music they chose. The other judges loved it though.
Greg Morton: He is an impressionist that likes to imitate movie characters. As always, he does well and I think he especially nails his Godfather impression. I like how he does all genres of movies, not just ones from his generation. 
The judges love that he took them back to their childhoods. Simon hopes they 'show him the money' by voting.
Carmen Carter: The diva singer sings the Imagine Dragons's song Believer. She puts her own twist on it and leaves the judges in awe. However, Howie wishes she would have chosen a different song.
Emerald Belles: They are another dance troupe. However, they focus on kicks a la the Rockettes. They are cute and fun to watch and it would not be surprising to see some of them dance with the most famous troupe in the world someday.
Howie bows to them and Simon thinks he owes the girls an apology for not liking their audition. The ladies think they are spectacular and that they stepped it up this week.
Sophie Peccora: She is a singing YouTube sensation. I believe she even got the Golden Buzzer during her audition. She sings an original song and while her voice is incredible and tear inducing for Julianne, I am worried about how she will do up against the other acts.
The judges are in awe of her and think she is an important part of the show.
Messoudi Brothers: They are hand balancers. However, one of them got hurt so their act has to be modified a bit. It is hard to tell though because they still manage to do magic on that stage. The fact that they are shirtless makes the act that much better too. It's like Magic Mike meets Cirque du Soleil. 
Gabrielle finds the act to be sexy, while Julianne was on the edge of her seat. Simon loved it but wants to see more.
Voices of Service: They are  a group of veterans who use their singing to help deal with the trauma they faced and in honor of their fellow military members. Tonight, they choose to sing Fire by Gavin DeGraw. As always, I am in tears listening to them, they are so inspiring and awe-inducing. 
The judges find them inspirational and hope they make it to the next round.
Ansley Burns: She is a singer who made it through via the Wildcard Round. She is cute and fun with a great voice, but again, I worry that she might get lost in the shuffle with all this other great talent. 
The judges encourage her to keep going and never give up.
Alex Dowis: He is a light painter who used his talent as inspiration after the fall of communism in the Czech Republic. Tonight, he tells the history of the world through his painting. It is so beautiful to see it done and an act that will have me going for my Visa card to buy tickets for if he wins.
Simon wasn't feeling it, but Julianne and Gabrielle think it was beautiful and magical.
Luke Islam: He is a singer that got the Golden Buzzer from Julianne. His voice is still developing, but still incredible to hear. I bet he will end up singing on Broadway one day! He also seems to shine in terms of his personality. 
Julianne and Simon are so proud of him and Howie agrees that he will end up on stage one day.
Bir Khalsa: They are a danger act that always leaves me on the edge of my seat. Tonight is no exception. I am especially impressed since they are doing this all with a new member of the group. Apparently, one of them left after they made it on the show. He mostly narrates while the other guys do their act, which involves fire, cucumbers and chainsaws.
Howie and Gabrielle agree he is what the show is all about, while Simon loves how crazy and dangerous it is.
Kodi Lee: He got the Golden Buzzer from Gabrielle. He is a blind autistic child who uses music as a way to communicate. He made all of America cry with his act last time and tonight is no exception. He is definitely a gifted musician. I am especially blown away by his piano playing. 
Gabrielle thinks he is helping change the world, while Simon is amazed by him. He thinks the world is nothing without people like him. 
Stay tuned for the results!