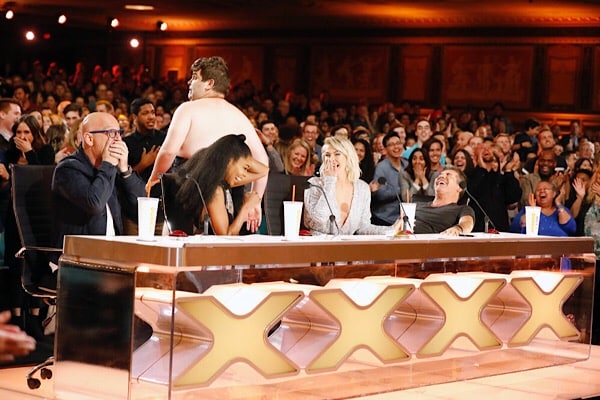 Read Time:
2 Minute, 32 Second
Tonight is yet another night of auditions for America's Got Talent on NBC. We have seen some amazing acts so far and tonight promises to be more of the same. Julianne Hough, Gabrielle Union, Simon Cowell and Howie Mandel are judges, while Terry Crews serves as host.
Nick and Lindsay are musicians turned knife throwers. Seriously, they go from one to the other and it is quite interesting. I don't know what to say about that…..except Simon wanting a knife thrown at him while Lindsay uses her feet to do so was the highlight. They are off to the next round. 
Izzy and Easton are two contemporary dancers who do a routine about a brother going off to war and the sister not wanting him to leave. Did I mention they're kids? It was better than some adult performances I have seen. WOW. The judges are in awe and give them four yeses to the next round. 
Lamont Landers is a Showtime at the Apollo alum and wants to wow the judges with his singing. He doesn't impress Simon at first, who makes him try again…and again. It is a bit much and he seems a bit upset about having to perform again with no preparation, but he finally gets the four yeses he wanted.
Death the comedian gets buzzed and sent home. That is the best I can say about that.
Ndlovu Youth Choir is up next with their performance. They all came from poverty and tough backgrounds and use the group as a platform to rise above it. Everyone is amazed and in tears (or am I the only one crying? I can't tell?) and off they go to the next round.
Phobia HR is one of the most interesting acts in the show's history. They use virtual reality to get people to overcome phobias. They help Howie get over his fear of heights and touching people and are sent to the next round. 
Emmane Besha won the Arab version of the show and is pretty much the Jackie Evancho of the season. (Gotta give a shoutout to my fellow Pittsburgh girl!) Her voice is so powerful and left me speechless. She is off to the next round. 
Lukas and Falco are a dog and master act that do a cowboy act to Footloose. I am not sure which one of them is cuter. I am kind of in love with them both. They are sent to the next round.
Verba Shadow is a shadow dance troupe that tells the true story of a couple being torn apart by war. It reminds me of the British act from a few years back and has me in tears. It is no surprise they are off to the next round.
Ben Trigger ends the night with doing some kind of striptease dance and gives himself the Golden Buzzer. However, it doesn't get him to the live shows, but gets him four yeses. 
More in 2 weeks. Stay tuned.