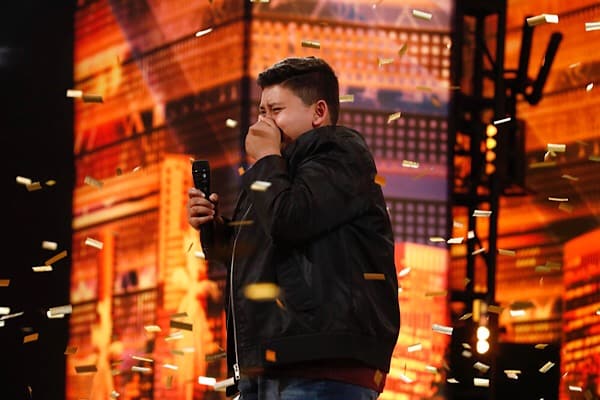 Read Time:
2 Minute, 48 Second
Tonight is the final night of auditions for America's Got Talent on NBC. We will finally see Julianne Hough use her golden buzzer, sending one act to the live shows. Terry Crews hosts, while Gabrielle Union, Howie Mandel and Simon Cowell join Julianne at the judges' table.
Here are tonight's acts.
Gonzo—He is a Britain's Got Talent alum and does an act with a tambourine. He bangs it all over his body to the tune of Livin' La Vida Loca. It is quite interesting to say the least. He gets four yeses and is sent to the next round.
Olivia Calderon—she is a singer who works in a detention center. She also made the Top 5 on Univision's "La Reina De La Canción" a few years ago. She sings My Way in Spanish and seemingly dedicates it to her late father. Howie isn't a fan, but she gets three yeses and is sent to the next round.
Marco and Elisa—They are France's Got Talent alums and do some odd dance while kissing. Simon buzzes them, Howie is over them and they are sent home.
Duo MaintenanT—They are a husband and wife acrobatic team that fell in love while performing. Their dancing is incredible and Julianne says it is the best she has seen. They are unanimously sent to the next round.
Jacko—Joke Act sent home.
Ra'ed—singer who is most likely a joke act and sent home.
Revolution Queens—They are from Argentina and do a drumming/tapping act with whips and lots of other wild twists. They are sent to the next round.
The Sentimentalists—They were on Penn and Teller Fool Us and are mentalists. They are able to correctly guess drawings from the judges and audience. Howie isn't sold, but the rest of the judges send them to the next round.
Chris Klafford—he is a singer and previously won Swedish Idol. He has a nice, raspy voice and seems very passionate about his music. He gets four yeses and is sent to the next round.
Matthew Richardson—he is a hoop aerialist and can put the Cirque du Soleil acts to shame! It is incredible to watch and has everyone in awe. He is also sent to the next round with four yeses.
Robert Finley—he is a singer who is also a Vietnam war vet. He gave up music to raise a family and recently lost his eyesight due to glaucoma. His voice is powerful and he reminds me of Luther Vandroos. Simon in particular loves him, comparing him to a fine wine and Susan Boyle. He gets four yeses and is sent to the next round.
Kara with a K—She is a comedian who focuses on fat jokes and flirting with Simon. She also randomly takes a cheeseburger out of her cleavage and eats it during the routine. The judges are wild for her and can't wait to see more in the next round.
Luke Islam—He is a singer who loves Broadway and sings a song from the musical Waitress. He is also a huge fan of Julianne her brother Derek. He does have a wonderful voice and adorable to boot. He gets the Golden Buzzer from Jules.
Next week starts the judges cuts round! Stay tuned!