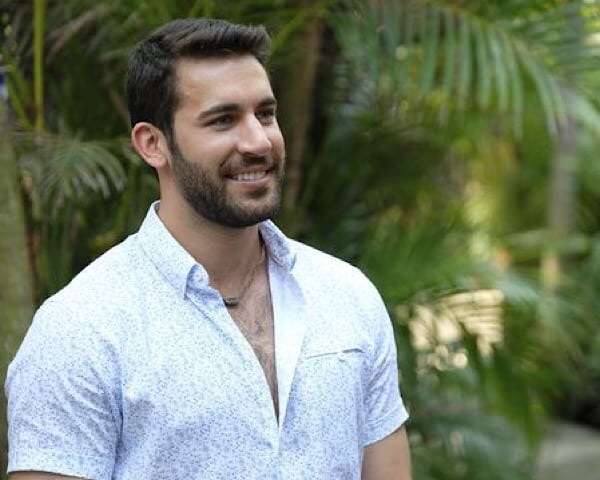 Read Time:
3 Minute, 34 Second
Tonight's episode of ABC's Bachelor in Paradise picks up with everyone a-twitter about the Hannah/Dylan/Blake triangle. Since they are in paradise though, no one tweeted about it….until now. 
There is also a love triangle between Caelynn, Cam and Mike. The only established couple is Derek and Demi. However, she feels very conflicted and comes out that she has been dating a woman in LA.
Derek also feels that something is off. He wants to discuss her last date and she wants to change the subject. 
Demi finally goes to Katie for advice. She comes out to her and cries over how tough things are and how she is tired of being strong and tough all the time. Katie hugs her and tells her she owes it to herself to be honest. If everyone had a friend like Katie….
Dylan confronts Hannah abut the love triangle and she finally admits she spent time with Blake before the show began. Needless to say, Dylan is not a happy bunny. 
Tayshia, Sydney and Nicole talk about the situation and Tayshia admits she feels blindsided. Now they don't like Hannah for playing games.
Tayshia confronts Hannah about the drama and her role in everything. Hannah for her part says she doesn't like being attacked, especially when she was trying to be fair to everyone.
Dean arrives! He lives in his car and is unemployed. We also see his past BIP debacle with Danielle and Kristina. He has a date card and talks to all the girls until he chooses Caelynn. She is crying when he sees her and he tries to make her smile.
Caelynn also whines about Kristina saying that she doesn't owe her anything. Honey, if it sucks that bad, GO HOME!
Mike feels blindsided about her going with Dean, as does Cam. 
Dean and Caelynn hit it off and enjoy dinner, drinks and hot tubbing. They also make out.
Demi slowly comes out to Tayshia and worries about coming out to Derek. She is also confused about her feelings for both Derek and her girlfriend. 
Jordan sidles up to Demi and has some laughs with her. He makes observations about the couples in the house and thinks he has to step it up if he wants to stay in the house. 
Christian shows up with a date card….whomever he may be. He says he is from Becca's season, but I don't remember him at all. He apparently was eliminated night one and attacked Jordan on the Men Tell All. 
Christian ends up taking Nicole on a date, upsetting Clay. The date consists of jet skiing and kissing. Christian says it is game over with the other guys now. 
Nicole admits to Sydney that Clay isn't aggressive enough. 
Clay then takes Nicole aside to talk to her and admit his feelings. However, Christian goes up to her and Clay goes off on her, saying he wants time with her and he can go. Nicole says she wants time with Clay and the guys shake hands and all is right with the world. 
Except not…because Christian is all whiny. Clay is also not happy with this. Christian gets drink while Clay and Nicole kiss. 
Now it is time to mingle so the guys can guarantee themselves roses. 
Demi comes out to Derek, who thanks her for being honest. They decide to take things slow and be honest. They seal it with a kiss.
Mike and Sydney bond over dessert. They decide to go slow and he says he respects her.
Katie and Chris also bond and make out.
John Paul Jones is lying around and preparing a poem for Tayshia. I think it's adorable! I would totally melt if a guy did this for me. They kiss, so I guess she is impressed. 
Christian sets up a piñata for Nicole, along with some wine and strawberries. Jordan and Clay are not happy about this. Clay tries to steal time with Nicole, but Christian fights him on it.  Clay finally decides to leave them alone. So then Jordan goes over and decides to take down the piñata, causing the two of them to get into a brawl….which will continue into next week.