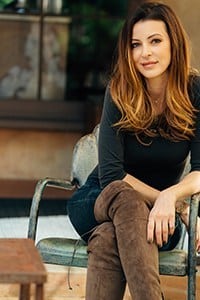 Read Time:
1 Minute, 24 Second
Anyone who knows me knows I love jewelry. I always look for new pieces to wear for events, nights out and of course everyday wear. It makes me feel classy and pulled together, as well as beautiful.
I recently discovered a new line that is not only gorgeous, but is founded by one of the strongest, determined women in the business. Jasmine Penna is the brain child behind Congés, which is a fine jewelry line found online in congeslife.com. Not only is this woman one of the most creative women when it comes to designing jewelry, but she is also one of the most ambitious. Talking to her was a huge honor, not only because I got to learn about her jewelry line, but because she is a huge inspiration. 
Jasmine got her start in the business after being inspired on her honeymoon. However, her love of the fashion business began at a much younger age. She grew up watching her grandmother design gowns for awards shows. This sparked her interest in the field and made her determined to one day work in the business herself. She attended school for fashion and began building her brand, all of which led her to where she is today. She admits that it is time consuming and sometimes lonely, but she credits her team of workers for helping make this an incredible journey. 
However, the best part about Jasmine is her positive attitude. She always sees the best in everyone and everything, making her business that much more successful. She is an inspiration and a hard worker, making her a role model to anyone who wants to get the very best in life.