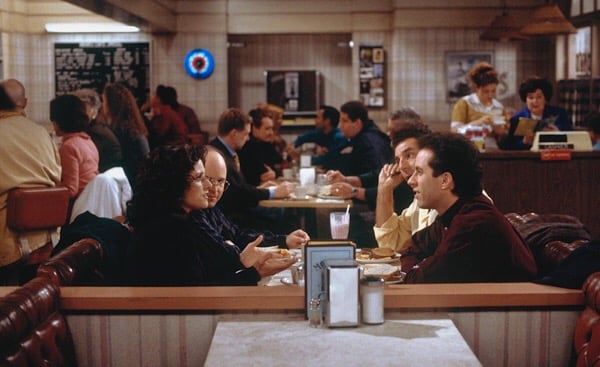 Read Time:
4 Minute, 33 Second
Seinfeld is celebrating its 30th anniversary, and to celebrate, we have some amazing quotes from notable guest stars, courtesy of today.com.
It's been 30 years since our favorite "show about nothing" premiered, giving us an entire lexicon of unforgettable phrases ("No soup for you!") and four of the funniest characters in TV history.
What was it really like being part of "Seinfeld"? Here, seven actors (including the "Soup Nazi," Puddy, Sue Ellen Mischke and "Bizarro Jerry," as well as some of Jerry's most memorable girlfriends) who appeared on the sitcom throughout its nine-season run share their memories from set.
Julia Louis-Dreyfus had a surprisingly "forceful" push in the scene when she pushed boyfriend "Bizarro Jerry":
"When she pushed me down, there was a big pad behind the couch, so it wasn't going to hurt," Tim DeKay said. "But I will say, she pushed me much harder than I expected. I thought I was going to kinda have to help her with the force and make it look like it. No, I just had to be there. Boom, very forceful, physical, tough. It was a good push."
Kristin Davis was "very panicked" to do "Seinfeld," and Jerry teased her about it:
"I was like, 'Ooh, you know, gosh, I'm kinda nervous,'" she said.  "And (Seinfeld) was like, 'What are you nervous for?' And I was like, 'Uh, well, you know, you're, like, the biggest hit in the world.' And he told me about how at first they were like, 'No,' and he framed that letter that says, like, 'Your show is not funny' and 'It's about nothing," which is of course crazy to think about. And then he said, 'You know a lot of people watch this show.' And was like, 'Yeah, yeah. I know. I know. A lotta people watch the show. I watch the show. I can't believe I'm on the couch in your apartment. It's crazy.' So then the audience comes. It's the night of filming. And right before action, Jerry leans over and he whispers, '38 million.' And I'm like, 'What?' And he says, '38 million people watching.' 'What are you doing to me?' I was like, 'I can't function like this.'"
"He just felt that was so funny," she continued. "And so every time he had a chance he'd be like, '38 million.' And I'm like, 'Oh my God. Oh my God. I'm so nervous.'  So that's how Jerry found his fun. Scaring the guest stars to death. But he was super supportive. I don't mean to say that he wasn't, but he thought that was really funny, 'cause I would just lose all color. 'Will I speak? When my mouth opens will anything come out?' I have no idea.' I mean, the counteracting factor of that is that Jerry himself is so nice and so normal, considering everything."
The actor behind the Soup Nazi was "astounded" by Jerry Seinfeld's lack of ego:
"I've never worked with a director and producer who had less ego than Jerry Seinfeld," he said. "I did the six scenes that the Soup Nazi has, and he laughed a lot. It was great. He was laughing too much, actually. And then he had me do it again, and he said, 'You know, I don't understand why the character's so mean. Could you do it again, and be a little nicer sometimes,' which I did horribly. I don't think he laughed once. And I thought for sure that was the death knell about the character, I wasn't going to get it. But I did get it, and as soon as I walked onto the soundstage, Jerry beelined over to me and he said, 'You know what, man? Forget about the direction I gave you. Just do what you did when you walked in. The meaner, the funnier, I guess.' And I was just astounded by his lack of wanting to be right, which almost every other director and producer has."
Brenda Strong made Larry David nervous while getting into character as Sue Ellen Mischke, the "braless wonder":
"We decided that Sue Ellen Mischke was going to be wearing a sweater to meet Elaine. And Larry David wanted to really get it right, and so he came to the costume fitting. And I kept putting on sweater after sweater after sweater, and coming out. And he very shyly and boyishly would try not to look at my breasts, but he would have to, because that's what the whole gag was about. So he'd kind of look and go, 'No, not that one,' and then another one, and another one. And finally he realized he had to get back to set. And there was one more, and it was actually my favorite one. And I said, 'Wait, Larry, I'll walk with you.' So I put it on. And he rode his bicycle from the New York set over to the costume department, so he started riding his bicycle back to the New York street. And I started walking backwards, and as I'm walking backwards, I'm trying to jostle a little bit so that he could kind of get the motion. I just remember the handlebars on his bicycle (wobbling), and I thought, 'Oh my gosh, Larry David is gonna crash into some bushes because of this.' And finally he just yelled, 'It's fine, it's fine.' And that was the sweater we ended up using."