CW's Riverdale to be Released on DVD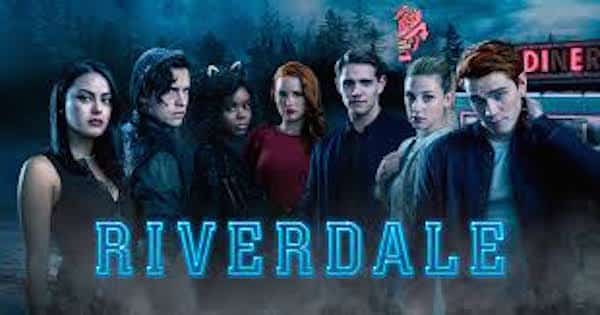 The rumors are true! Discover more secrets, seduction, and corruption as Warner Bros. Home Entertainment releases Riverdale: The Complete Second Season on DVD August 7, 2018. Currently the #1 show on The CW with women 18-49,* Riverdale: The Complete Second Season contains all 22 scandalous episodes from the second season, and includes three bonus featurettes, the 2017 Comic-Con Panel, a hilarious gag reel and never-before-seen deleted scenes. The DVD is priced to own at $39.99 SRP. Riverdale: The Complete Second Season is also available to own on Digital via purchase from digital retailers.
* Source: Nielsen National TV View, 2017-18 broadcast season to date (09/18/2017 – 03/18/2018), Live + 7 Day ratings; excluding movies, sports, repeats, specials, less than 3 telecasts
Riverdale: The Complete Second Season will also be available on Blu-rayTM courtesy of Warner Archive Collection. The Blu-rayTM release includes all bonus features on the DVD and is also arriving August 7, 2018. Warner Archive Blu-ray releases are found at wb.com/warnerarchive and your favorite online retailer.
Based on the characters from Archie Comics, Riverdale returns with its subversive take on small-town life. Determined to protect the sanctity of his town in the wake of his father's shooting by the Black Hood, season two of Riverdale finds Archie (KJ Apa) seeking justice…and vengeance. As a civil war brews between the Northside and the Southside, loyalties are divided. Betty (Lili Reinhart) and Jughead's (Cole Sprouse) relationship enters fragile territory when Jughead decides to join the Southside Serpents and Betty's long-lost brother Chic returns. Veronica (Camila Mendes) finds her life upended by her father Hiram's (Mark Consuelos) arrival and his dark schemes for the town's future. Everyone will have to pick a side, including Queen Bee Cheryl Blossom (Madelaine Petsch), star-to-be Josie McCoy (Ashleigh Murray), Kevin Keller (Casey Cott), and Reggie Mantle (Charles Melton). Things are never what you'd expect in Riverdale, and that's especially true as Archie and the gang race to avert a full-on riot and to solve the mystery of the Black Hood.
"With a phenomenal 60% average viewership growth from last season, Riverdale continues to build its passionate fan base in its second season," said Rosemary Markson, WBHE Senior Vice President, Television Marketing. "We're thrilled to release Riverdale: The Complete Second Season on DVD so both new and returning fans can relive all of their favorite episodes and enjoy new behind-the-scenes extras."
Riverdale is created by Roberto Aguirre-Sacasa (Glee, Big Love), produced by Greg Berlanti (The Flash, Supergirl, DC's Legends of Tomorrow, Blindspot), and stars KJ Apa (Shortland Street), Lili Reinhart (The Kings of Summer), Camila Mendes (Randy Doe), Cole Sprouse (The Suite Life of Zack and Cody), Marisol Nichols (Big Momma's House 2), Madelaine Petsch (The Curse of Sleeping Beauty), Ashleigh Murray (Deidra & Laney Rob a Train), Mark Consuelos (All My Children), Casey Cott (The Mascot), Skeet Ulrich (Law & Order: LA), with Mädchen Amick (Twin Peaks), and Luke Perry (Beverly Hills 90210). Roberto Aguirre-Sacasa is also an executive producer, along with Greg Berlanti (Arrow, Blindspot, DC's Legends of Tomorrow), Sarah Schechter (Arrow, Blindspot, DC's Legends of Tomorrow), and Jon Goldwater (Publisher/CEO, Archie Comics). 
SPECIAL FEATURES
Caught Between Two Worlds: The Darkness Inside
Making the Musical: Riverdale
Riverdale: 2017 Comic-Con Panel

 

Riverdale Pop Quiz!

 

Deleted Scenes
Gag Reel
22 ONE-HOUR EPISODES
Chapter Fourteen: "A Kiss Before Dying"
Chapter Fifteen: "Nighthawks"
Chapter Sixteen: "The Watcher in the Woods"
Chapter Seventeen: "The Town That Dreaded Sundown"
Chapter Eighteen: "When a Stranger Calls"
Chapter Nineteen: "Death Proof"
Chapter Twenty: "Tales from the Darkside"
Chapter Twenty-One: "House of the Devil"
Chapter Twenty-Two: "Silent Night, Deadly Night"
Chapter Twenty-Three: "The Blackboard Jungle"
Chapter Twenty-Four: "The Wrestler"
Chapter Twenty-Five: "The Wicked and the Divine"
Chapter Twenty-Six: "The Tell-Tale Heart"
Chapter Twenty-Seven: "The Hills Have Eyes"
Chapter Twenty-Eight: "There Will Be Blood"
Chapter Twenty-Nine: "Primary Colors"
Chapter Thirty: "The Noose Tightens"
Chapter Thirty-One: "A Night to Remember"
Chapter Thirty-Two: "Prisoners"
Chapter Thirty-Three: "Shadow of a Doubt"
Chapter Thirty-Four: "Judgment Night"
Chapter Thirty-Five: "Brave New World"
DIGITAL
The second season of Riverdale is also currently available to own on Digital. Digital allows consumers to instantly stream and download all episodes to watch anywhere and anytime on their favorite devices.  Digital is available from various retailers including Amazon Video, iTunes, PlayStation, Vudu, Xbox and others. 
BASICS
Street Date: August 7, 2018
Price: $39.99 SRP 
4 DVD-9s
Audio – English (5.1)
Subtitles – ESDH
Presented in 16×9 widescreen format
Running Time: Feature: Approx 968 min
About Warner Bros. Home Entertainment Inc.
Warner Bros. Home Entertainment (WBHE) brings together Warner Bros. Entertainment's home video, digital distribution and interactive entertainment businesses in order to maximize current and next-generation distribution scenarios. An industry leader since its inception, WBHE oversees the global distribution of content through packaged goods (Blu-ray Disc™ and DVD) and digital media in the form of electronic sell-through and video-on-demand via cable, satellite, online and mobile channels, and is a significant developer and publisher for console and online video game titles worldwide. WBHE distributes its product through third party retail partners and licensees.