Sheree J Wilson Talks to TVGrapevine
Read Time:
3 Minute, 10 Second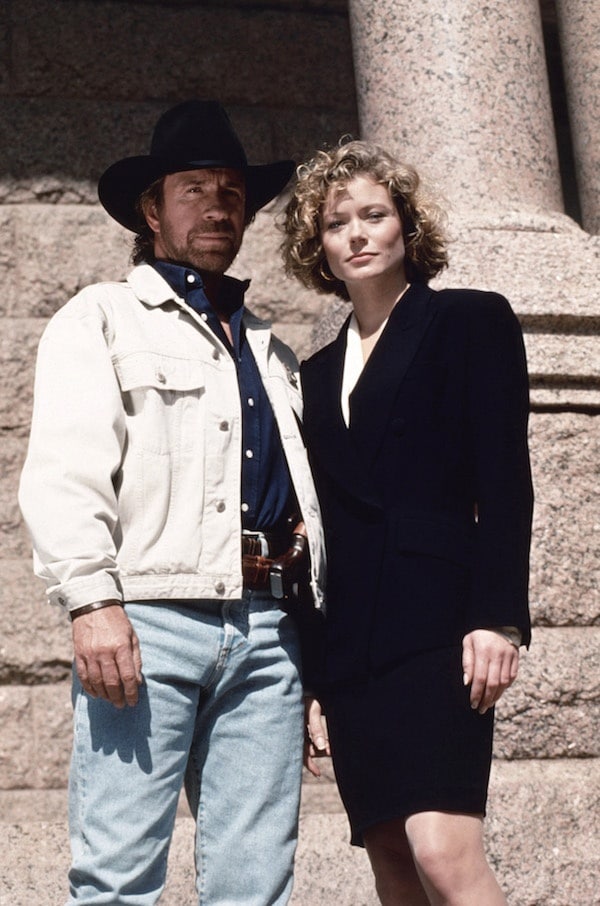 Sheree J Wilson, who played Alex Cahill on Walker, Texas Ranger recently talked to TVGrapevine about the show's 25th anniversary.
The show is currently on getTV weekdays from 2:00PM to 6:00PM ET/1-5C and Sundays from 5:00PM-10PM ET/4-7C.
Tell me about yourself and career.
I have had a very charmed career with two top show for CBS running for over 13 years. Dallas was a dream job and then I got Walker Texas Ranger to continue the dream! I have also been blessed with working with so many major talented actors and actresses on television, film and stage.
What was your role on Walker, Texas Ranger?
Assistant District Attorney Alex Cahill is a strong, smart woman who could hold her own with the Texas Rangers… in the courtroom or on the trail. She was so much fun to play as there were so many wild adventures that we all got involved with. Every case brought action and a new way to solve the crime. It is so powerful to be on the winning team!
What initially attracted you to the role?
I grew up in Boulder Colorado and had horses and lived the life of a cowgirl. I loved the combination of legal smarts mixed with BIG TEXAS cowboy fun! I fell in love with Dallas from filming my first big series there and couldn't wait to go back.
How do you feel knowing the show is celebrating its 25th anniversary?
It's hard for me to imagine the show being 25 years young because it feels like yesterday that we were all playing together. I have so many RICH memories of friendship, collaboration, and pinching myself as I went to work each day. We were a tremendous family that really loved one another, our characters and the show.
Where do you think your character would be today?
My character would be a judge right now. She would continue her pursuit of justice and would love the opportunity to grow and implement truth and justice.
What was it like working with Chuck Norris? 
It was a dream! He is exactly who you think he is… a proud American, a true world class Karate Champion, a devoted family man and just the best most loyal friend. He is so hard working and never compromised and set the bar for all of us and any who came to do the show.
Why do you think people still watch reruns of the show today?
Our show has more appeal now probably then when we first aired. In this tumultuous climate in our world, we need HEROES! We need to know that the good guys are winning and we need a show that the whole family can watch together and receive some moral fiber and lessons in life. We always had a good message with every show and people are craving that.
What are you working on now?
I am doing a national tour of Driving Miss Daisy with my brilliant Walker co-star Clarence Gilyard and the talented Richard Bugg. I have a production company called Sandalphon Entertainment and we are producing award season films and also have a faith-based division. Check out our slate of films at www.sandalphon.net
What would fans be surprised to know about you?
That I just took up tennis for the first time and am loving it!
What are you watching on TV these days?
THIS IS US and Madam Secretary
Anything else you want to tell America?
This COUNTRY IS GREAT and always will be!