The Price is Right Hosts Pet Adoption Week
The Price is Right Hosts Pet Adoption Week
Network television's #1 daytime series and longest-running game show, "THE PRICE IS RIGHT," hosts Pet Adoption Week beginning Monday, April 24 through Friday, April 28 (11:00 AM-12:00 PM ET/10:00-11:00 AM PT) on CBS.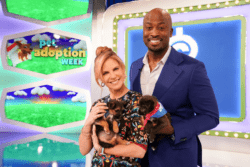 Each day, stars from some of CBS' most beloved series will showcase various special pets up for adoption from shelters around the Los Angeles area. "THE YOUNG AND THE RESTLESS'" Tracey Bregman and Christian LeBlanc kick off the week on Monday, April 24th, eager to find a new home and loving family for a senior dog. Eric Wiese and Rashi Khanna Wiese from CBS' "LUCKY DOG" follow on Tuesday,  April 25th featuring a variety of precious pups up for adoption. On Wednesday, April 26th, Scott Clifton from "THE BOLD AND THE BEAUTIFUL" highlights adorable kittens looking for a home. "THE PRICE IS RIGHT" model James O'Halloran spotlights a rescue dog on Thursday, April 27th and Natalie Morales and Akbar Gbajabiamila from "THE TALK" close out Pet Adoption Week on Friday, April 28th.
All pets featured in Pet Adoption Week have found loving homes since the episodes were taped, but those looking to adopt can still support their local shelters.