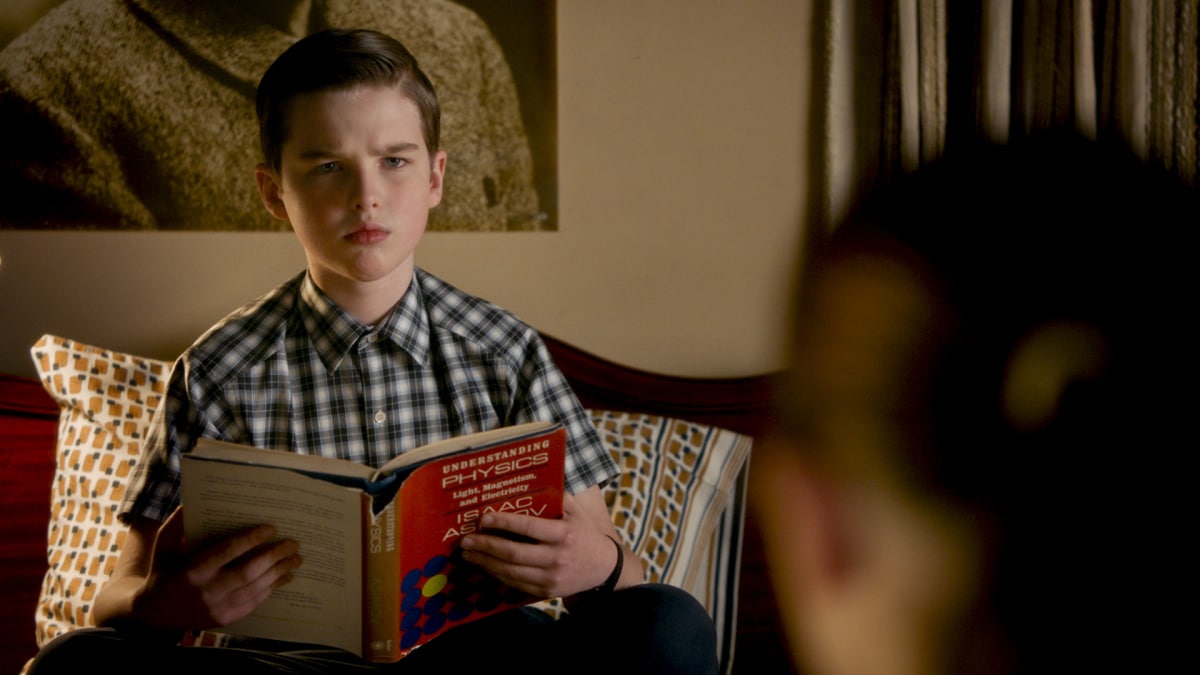 Read Time:
3 Minute, 30 Second
ICYMI: Young Sheldon Recap for The Geezer Bus and a New Model for Education
The episode (Young Sheldon: The Geezer Bus and a New Model for Education) opens with Adult Sheldon (Jim Parsons) looking back on his fear of cars, including driving with Missy (Raegan Revord) and Georgie (Montana Jordan), being in a car wash with George, racing cars and finally getting into a car accident with MeeMaw (Annie Potts).
Mary (Zoe Perry) and George (Lance Barber) see them post accident to make sure they are okay. She says the brake went out when she tried to swerve to miss a cat. She wonders what she is going to do now. Mary tells her to take the church shuttle, but she says that is for geezers.
Missy tells Sheldon she cannot believe he and MeeMaw almost died. He says that was not the case, but she plans on exaggerating so she can get out of homework for a week. She asks if the car caught fire and he says no. She tells him he is in shock and has no idea what happened.
The next day, Mary goes to drive Sheldon to school, but he panics and runs away, despite the fact that she prays for them. She goes to look for him, but he still refuses to get in the car. Missy and George wonder what is going on and think that they can give him the special milk they use on Mr. T to make him sleep. Mary says no and leaves.
MeeMaw tells Dale (Craig T Nelson) that her car is fine. He thinks she stepped on the wrong brake, but she denies it and wonders how she is going to get around. She considers riding a bike, but Dale makes fun of her for it. She then realizes she might have to take the shuttle after all when he won't lend her a car.
Later on, she calls Dr. Strugis (Wallace Shawn)to tell him what happened and he asks why she won't ride a bike or borrow a car. She tells him that she is taking the shuttle and her feelings behind it. He reminds her that it could and will be worse, until she hangs up on him.
Sheldon calls Dr. Linkletter (Ed Begley Jr) and demands he give her the lecture over the phone, but he says no.  He then calls President Hagemeyer (Wendi Malick) who agrees to have him teach the class over the phone. He compares it to learning in the future as  he puts him on speakerphone.
Meemaw gets the number for the shuttle and feels old when the mailman says his grandma uses it. The driver offers to help her get on, but she says she can do it on her own. The other passengers call her feisty. She is driving with Vern (Alan Rachins), Hortense (Diane Ladd) and Doris (Marla Gibbs), who misses what is happening until she puts on his hearing aid.
President Hagemeyer  calls again and says they will get him whatever he needs for classes, including a new phone line and strawberry Quick.
Missy gets out of her test by exaggerating about the accident, but told not to push it when she tries to get out of homework.
MeeMaw tells them about her accident, leading to Vern and his wife talking about their own driving experiences and how their grandsons are special.
Mary comes home to find the phone company putting in a new line. She yells at Sheldon about taking advantage of the situation when someone delivers strawberry Quik. She tells Mary to tip the guy.
The shuttle gang love MeeMaw and her stories, leading them to have a day of fun at the salon.
President Hagemeyer calls Mary, who tells him to stop giving him special treatment. She agrees, but cannot pump the brakes on the Star Trek tapes.
The episode ends with Sheldon back in the car, thanks to Mary bribing him with a trip to Radio Shack. They play an element car game, which he went on to play with Leonard as an adult.