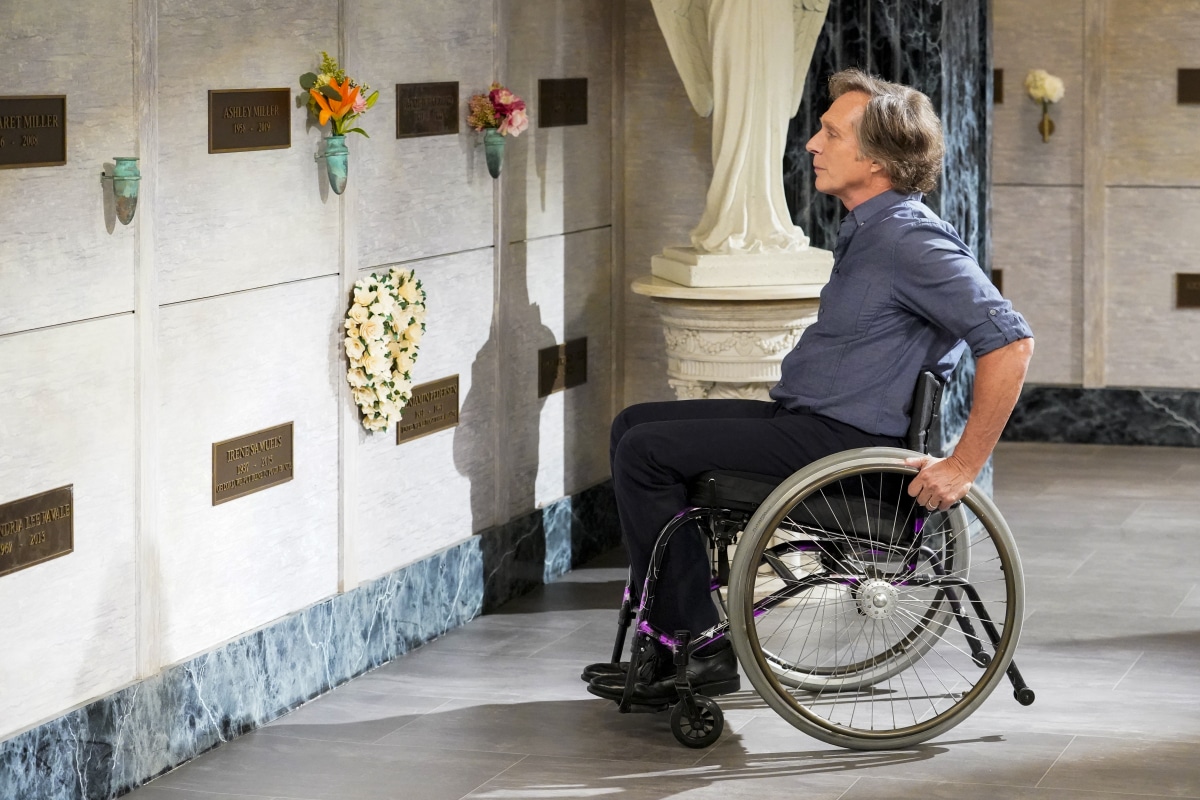 Read Time:
4 Minute, 2 Second
ICYMI: Mom Recap for Klondike-Five and a Secret Family
The episode  for  Mom: Klondike-Five and a Secret Family opens with Bonnie (Allison Janney) putting away laundry and discovering a notebook behind one of the drawers. As she flips through it, she gets angrier and angrier.
She goes to confront Adam (William Fichtner), who is watching a basketball game.  He says the book is a list of people (mostly women) who he owes amends to…..complete with a star rating. The stars represent how much he messed up, but Bonnie is still not happy. She goes to find her name, which is in the back of the book. He tries to cover up by saying it is a different Bonnie.
They continue the conversation in the kitchen. He explains that his sponsor had him look for his patterns when it comes to women. It turns out he invites or creates drama with women, which offends Bonnie. She says she was the same way, but blames drugs and alcohol. He blames the fact that he has a penis.
He isn't sure how to begin the amends, so Bonnie offers to teach him, including singing and jazz hands. She then compares it to sex, awkward at first, but then you get so good you want to film it….the latter being a joke.
Marjorie (Mimi Kennedy), Tammy (Kristen Johnston), Wendy (Beth Hall) and Jill (Jaime Pressly) are in the bistro, splitting a piece of cake. Wendy wonders where Bonnie is, because she is going to yell at her for starting without her. Tammy promises to have her back, but blames Wendy anyway when Bonnie yells at her.
Bonnie talks about Adam's list and how he began his amends. However, it ended up being a disaster because Ashley, the first girl on the list died. He has been a mess ever since he found out and she doesn't know why or how to help. This leads to the women sharing their own amends stories, including Jill admitting she loves fire.
Tammy announces she plans on doing her big amends at the steak house she robbed back in the day.
Later on, Bonnie and Adam are watching NCIS: New Orleans. She keeps making comments on the show, including how one actor was on another legal show, who she thinks is the killer and how fingerprints are destroyed. She notices Adam isn't paying attention, so she asks for his beer. He says she can have it and she realizes he really isn't paying attention.  She realizes he is still mourning Ashley, causing them to get into a fight and him to storm out.
Bonnie calls Tammy to see if she has seen Adam. However, she ends up interrupting her amends to the manager (David Theune), who remembers her as the woman in the catsuit from back in the day. He says the video was a staple at Christmas parties for years and how depressing it is that he is still at the same job.
Adam ends up at the bar, listening to two men debating on what makes a sandwich a sandwich. Adam finally tells them to shut up…..and ends up getting into a fight.
Tammy continues her amends, but gets into an amends vs apology debate with the manager. He says this is intense and asks her to run him over.
Marjorie goes to bail Adam out of jail for getting into the bar fight. He apologizes and says he cannot face Bonnie at the moment. She says she punched people before, but never got caught.
At the bistro, Bonnie comes in, angry over Adam. The women offer him advice and asks how she handled things. She says she cannot be sure since Marjorie isn't there to help. Wendy gets sassy with her, so Bonnie gives her attitude right back, wanting to know why Marjorie isn't there.
Adam and Marjorie talk about his arrest and amends attempt. She urges him to be honest, and he admits he left out some key parts of the story. He admits that he cheated on Ashley with her mother and now it is too late to make amends. She tells him to live a better life and be honest with Bonnie.
Later on, Adam gives Bonnie a recap of what happened and says he was too ashamed to tell her the truth. He says that he destroyed Ashley's family and it was all his fault. Bonnie and Adam make up.
The ladies (minus Bonnie) end up getting dinner at the steak house with the manager telling them not to eat the fish.
Bonnie at a mausoleum so Adam can make amends with Ashley as the episode comes to a close.