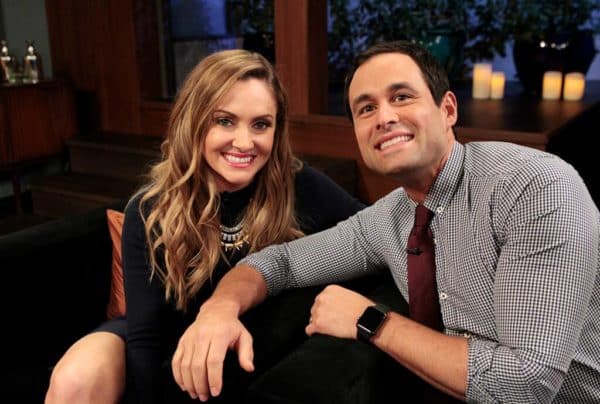 Read Time:
3 Minute, 49 Second
ICYMI: FOR REAL THE STORY OF REALITY TV RECAP FOR ADDICTED TO LOVE
This week's episode of For Real: The Story of Reality TV focuses on finding love on reality TV.  It is a trend that began all the way back in the sixties with The Dating Game and now seems to be everywhere. It is filled with drama, disaster, tears and of course, wondering if there will be a love story at the end.
MARRIED…..WITH DRAMA
One of the biggest disasters happened on Who Wants to Marry a Multimillionaire?, which aired in 2000. Rick and Darva got married after the end of the episode. However, their pasts came back to haunt them, and ended up annulling their marriage.
We also get updates on the couples featured on the OG Temptation Island, as well as how some twists and turns shocked the contestants.
EVERYTHING'S (NOT) COMING UP ROSES
The show moves on to discuss one of the biggest dating shows to date: The Bachelor! The show is known for fights, drama, roses and sometimes even finding love. This leads to Andy Cohen talking to Jason and Molly Mesnick, who made headlines when Jason dumped original winner Melissa Rycroft for Molly.
Molly talks about how the producers convinced her to say she loved Jason before she was ready and  Jason added how the producers would be in his (and others) ears telling them to get emotional or manipulate them using the power of suggestion.
The two of them also talk about the whole Molly/Melissa switcheroo, including how Jason went along with everything for Molly. He had no idea what happened before Melissa went onstage, but knew she must have been told something since she came on stage already upset.
Molly, for her part, talked about how she was convinced to stay because she was told that she was going to be the new Bachelorette.
LOVE, LIES AND VIDEOTAPE
Flava of Love featured Flava Flav's dating of the show, which was very similar to The Bachelor. However, there were a lot of moments that were considered to be controversial and stereotypical. The same thing happened with Rock of Love, which featured Bret Michaels. Those moments of course led to some very interesting television moments, to say the least.
Bret said he wanted to fix some of the fights and problems in the house, but was told to not get involved because it made for good TV.
Both these shows led to spinoffs, such as Daisy of Love, Megan Wants a Millionaire and I Love New York. Megan talks about how Ryan gave her his number before filming, which led to her telling him he would win. However, she was told by producers to eliminate him. She initially planned to explain things to him, but when she called, he told her he met the love of his life in Vegas. She was upset because he told her the same thing days before.
Ryan caused even more controversy when he was cast on I Love Money 3….while MARRIED. The show was canceled from airing when killed his wife and himself in a murder suicide.
This led to word getting out that he had abuse allegations against him, which had been expunged from his record. Due to this, producers became concerned about who they were casting on these shows.
CATFISHING AND REAL LIFE LOVE DIARIES
Catfish was another popular show that showed people being scammed (or catfished) by others, who are pretending to be a potential partner. The person then confesses, leading to a lot of dramatic TV moments. Many of the catfishers ended up NOT learning their lessons and getting in trouble with the law.
Real life relationships became popular to watch, thanks to shows like 90 Day Fiancé, which features couples who have one half come to the USA from their native country….and have to marry within 90 days. Although there is a lot of fighting, controversy and scary moments, the show actually has a big success rate when it comes to couples staying together.
The show became so popular that it led to several spinoffs, including Before the 90 Days and Happily Ever After.
DID THEY OR DIDN'T THEY?
Back to Jason and Molly! They allude to the fact that they did indeed have sex in the Fantasy Suite, but he refuses to give an answer about what happened with Melissa.
The show ends with Andy pointing out that they were able to beat the odds.