BREAKING: Arrests Made in Kristin Smart Case
BREAKING: Arrests Made in Kristin Smart Case
Justice is finally being served in the Kristin Smart murder. Paul Flores, who was a longtime person of interest in the case, was arrested today, along with his father Ruben. They were booked on murder and accessory of murder charges, respectively. Ruben is being held on $250,000 bond, while it is unknown if Paul is being held on bail.
A news conference was held today in connection to the case.
"I think they are feeling a bit of relief, but as you can imagine until we return Kristin to them, this is not over," County Sherriff Ian Parkinson told reporters, today, referring to Kristin's family. "We have committed to them that we are not going to stop until Kristen has been recovered, no matter what the cause, no matter what the time, we're committed to that."
The Smart family also released a statement to the media:
"It is impossible to put into words what this day means for our family; we pray it is the first step to bringing our daughter home," they said. "While Kristin's loving spirit will always live in our hearts, our life without her hugs, laughs and smiles is a heartache that never abates."
"We are pleased that Kristin's case has now moved to the district attorney's office, where we know we will be in good hands, and look forward to the day when there will be 'justice' for Kristin,"
the statement concluded.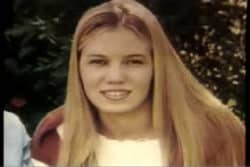 THE CASE:
College student Kristin Smart  disappeared after an off campus party on May 25, 1996. At the time, she was attending  Cal Polytechnic San Luis Obispo with Paul. It is said that he walked her home after the party and was the last one to see her alive. Her body has never been found and she was declared presumed dead in 2002.
At the time of her disappearance, she had no ID, extra clothes or money on her, implying that she did not leave voluntarily. An earring believed to have belonged to Kristin was found at Paul's mother's place, but has since been lost.
The case, which was featured on Unsolved Mysteries in 1996, has had many twists and turns over the past several years. Search dogs were sent to the Flores' neighbor's house in 2014 and again to the school's campus in 2016. Although the search dogs seem to have discovered beneficial evidence, the investigators refused to elaborate on what they found.
Other evidence was discovered earlier this year, some of which resulted in Paul's trucks being seized and him being detained. However, it is unknown what was found.
Story developing…..