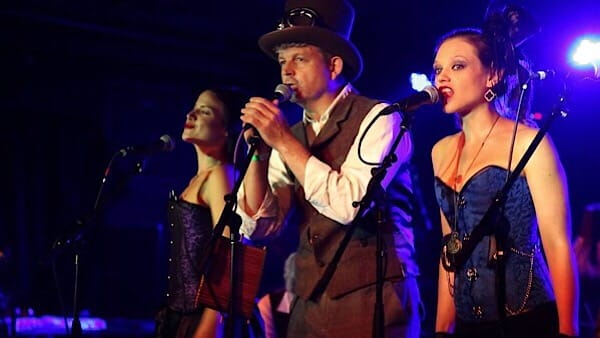 Read Time:
7 Minute, 6 Second
–Tell me a bit about how your career began.
In late 1982 I was press officer for a London theatre when it lost its funding and was forced to close so I found myself out of a job.
At just that moment, I met Brendan Perry and Lisa Gerrard, who had recently moved onto the housing estate where I lived on The Isle of Dogs in east London.
They had come to the UK from Australia in search of a record contract for their band "Dead Can Dance", but minus their drummer.
I'd been drumming in a blues & soul band around the local pubs and clubs and a friend gave Brendan my number – he got in touch and invited me to audition and, by pure chance, I found myself playing in what would undoubtedly otherwise have become one of my favourite bands.
In a matter of months, we had secured a release deal with cult indie label 4AD, recorded our first album, and been sent off to tour Holland with the Cocteau Twins – I was in dreamland!
–Who inspires you as an artist?
Before I met Brendan and Lisa, it would be a mix of the prog rock bands I followed in my teenage years (ranging from Pink Floyd to Nektar to Caravan), the whole punk movement (that ironically was to a large extent a violent reaction against the perceived pomposity and intellectual snobbery of the prog rock that I loved!), post-punk indie bands of that moment (particularly Joy Division), and elements of African and Arabic musics which I was just starting to discover at the time (anything from King Sunny Ade to Nusrat Fateh Ali Khan).
The greatest inspiration/influence on me by far then came from working with Brendan and Lisa, which was an incredible experience.
And now I am additionally inspired by a vast range of different musics – the folk musics of all parts of our planet, early music (medieval and renaissance eras), and by the array of instruments I have collected over the years.
–Tell me about working on Final Reflections and The Painted Caravan Trilogy and what inspired it.
Can I answer that in reverse order?
The Painted Caravan trilogy bears my name but is very much a real joint effort with my producer Trebor Lloyd and an artistic and production team he put together.
I met Trebor (online) in 2004 when I was looking for a release deal for my second solo album, "Enter The Mysterium".
He had established his own record label in NYC – City Canyons – a year or so earlier and was looking to build a highly diverse catalogue of releases.
His ethos reminded me of Ivo Watts Russell at 4AD in that his signings were purely artists whose music he felt a personal passion for – not because of any fashion trends, commercial potential, etc.
He liked my demo, offered to release the album, and I think I became his third or fourth signing to CCR, with "Mysterium" released in 2005.
A couple of years on, we were starting to discuss plans for my next album when Trebor asked me if I would be interested in participating in a collaboration with another of his artists, Sara Wendt, on a song he was visualising.
He sent me the lyrics he had written for "Hanging Man" and gave me free rein to write the music and make the initial arrangement.
I duly sent back the music, Sara recorded the vocals, and Trebor added some further instrumentation and produced the song.
We all loved the track and decided this was a project we wanted to take further, and hence "The Peter Ulrich Collaboration" was born.
It was Trebor's wish that I should be the kind of linchpin of the project, in that I would be to a greater or lesser extent involved in every song, and so it took my name.  

While the list of collaborators in The Painted Caravan Trilogy is stellar and long, frequent co-writer Anne Husick in the US and David Steele in the UK both deserve a special mention as pioneers who have contributed extensively to all three albums.

The result is that the albums vary enormously but they hold together as musical adventures, a kind of collection of a musical 1001 tales with the common themes of Trebor's and my involvement in every song.
The first song we recorded for "Final Reflections" was "Artificial Man" which has a very atmospheric, mechanical, industrial vibe going on and for which my younger daughter, Ellie, and her boyfriend, Josh, made the video which is on YouTube.
This is vastly different from, say, "Pirate Jane" which is a jaunty mix of sea shanty and country-style music with a rhythm played on washboard.
What they have in common is that both songs are great stories in what is a Trilogy of colourful yarns.

–Who are some people you want to collaborate with in the future?
I have a few ideas about that, but my thoughts are still in their infancy, so I don't want to pre-empt anything – sorry!
My current project is writing a book about my experiences playing with DCD from 1982-90, and then my subsequent solo albums and the Collaboration project, alongside keeping in touch with Brendan and Lisa and following DCD's progression.
For a lot of American fans, my DCD recollections will cover an era before they knew of the band, so I hope it will be of interest to find out how the band and its music developed up to that point.
Also, as with most bands/artists once they become well established, recording and touring becomes a well-oiled and highly organised machine – most of the funny and off-the-wall things happen in the early days when you are trying to get established and everything is being done on a shoestring budget.
I think – and hope – readers will find it entertaining, and quite surprising!
I'm hoping to get the book published in conjunction with releasing a restrospective anthology album covering all different projects I have contributed to during 35 years.
Once that's all "in the can", I'll decide where to go next musically.
–Tell me a surprising, fun fact about yourself.
I can play the well-known refrain from the William Tell Overture both by slapping my cheeks with the open palms of my hands, and by knocking on the top of my head with the knuckles of my clenched fists (varying the shape of my open mouth to pitch the notes).
–What are you watching on TV these days?
I recently caught up – ages after everyone else over here – with a UK series called "Peaky Blinders" which I adored – I don't know if you've had this in the US?
It's about a gangster family in Birmingham in the 1920s – the writing and acting are great, and I love the costumes!
There's a new series starting on UK TV later this month, but I'm fearful that it won't be as good.
I'm also looking out for a period drama due to be shown on UK TV this autumn (fall), an adaptation of an unfinished novel by Jane Austen called "Sanditon".
The lead female role is played by upcoming actress Rose Williams who is the granddaughter of my uncle – so there's a lot of excitement in that part of my family about it!
I believe they're negotiating to licence it to a network in the US, so remember you heard it here first!
–Anything else you want  to tell America?
I'd just like to say that I've had amazing experiences in America.
The last tour I did with DCD was the band's first in Canada and America, and I got to play two nights on Broadway in NYC, Boston, Washington DC, Chicago, LA and the incredible San Fransisco.
My first solo recording contract was with US label Projekt with Sam Rosenthal, following which all my releases have been via Trebor's own or licensed labels.
Then in 2015 we did the one and only live show of The Peter Ulrich Collaboration at the famous old Webster Hall in Lower East Side in Manhattan for which Trebor assembled a 17 strong band of exceptional musicians and it was truly one of THE experiences of my life.
I've also had a lot of online support over the years from some lovely people in the US, so there's a big place in my heart for America.
Thank you for your interest.