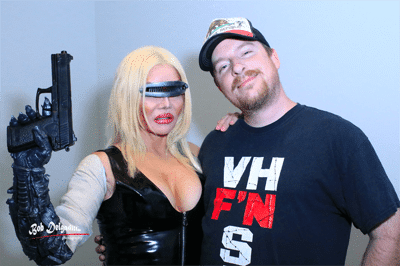 Read Time:
5 Minute, 43 Second
Tell me about yourself and career.
I was born in Kansas, raised in Nebraska and now residing in California. After an unfulfilling career in Business Management, I began video editing in 2004. I was known online as "Retro Horror Remix". I would re-insert deleted scenes and uncut footage into older horror movies and I released them for free on the internet as "fan edits". I was discovered by Producer John Klyza who hired me to edit "Sleepaway Camp
IV: The Survivor" in 2008. I directed my first feature film in 2009 called "Terror at Black Tree Forest", which was Produced by Klyza. I gained traction Directing music videos in 2013 with the controversial breakout video for
Lords of Acid's "Long Johns". Today, I have a resume of over 60 feature films and 80 music videos. I'm known for Directing several sequels or remakes of the cult horror films from yesteryear including "Silent Night, Bloody Night 2", "Die Sister, Die!", "Camp Blood 4 and 5", "The Dummy 2", "The Amityville Legacy" and documentaries on both the "Police Academy" and "Night of The Demons" films. I'm also the creator of the "Meathook Massacre" series and my most recent release was "Nemesis 5", which was Executive Produced by Albert Pyun. The film won "Best Film", "Best Director", "Best Actor" and "Best Actress" at the 2018 LANFA Awards.
What projects are you working on now?
We just completed "RoboWoman" and I begin shooting "Meathook Massacre: The Final Chapter" in early March. In May we film "Los Angeles Shark Attack" and shortly after that is the big (and still sorta secret) "Killer Tomatoes" project! There is also a music video for
My Life With The Thrill Kill Kult
I recently Directed that should be released soon!
What attracted you to them?
I'm a very diverse person, but always sort of dwell in the dark or more "alternative" side of things. Growing up a big fan of horror films, I want to create new pieces of art that feel nostalgic and keep my love for the genre alive. But I like to bounce around and stay creative. I always have 2 or 3 movies and a couple smaller projects going on at once. It keeps my creative juices flowing and it's now my every day, all day life.
What do you hope fans like about it?
I've been told I am an "acquired taste". I have a particular style. Some people don't like it, but those who do…REALLY DO! I've gained a large cult following over the last decade for my films and I only hope I continue to deliver what my fans enjoy with each project.
What are some memorable moments from your career?
I'll never forget working on "
Sleepaway Camp
IV". As a big fan of the series, that was a dream come true and pretty much set the stage for the type of films I would go on to create in my career. The first time I had the money to hire a "celebrity" was Brinke Stevens for my 2013 film "Die Sister, Die!". That was a great experience and so much fun. Making "
Cheerleader Camp
: To The Death" a year later was an utter nightmare due to the filming location, yet one that bonded many of us. "Nemesis 5" was the big turning point in my career. I moved to California as I was wrapping that one up. Getting to do the "Police Academy" and "
Night of The Demons
" documentaries was amazing because I met an incredible amount of talent that I grew up watching on the screen. And "RoboWoman" was possibly the most fun AND relaxed feature film shoot. I love working with Dawna Lee Heising, and she always makes the shoots a real treat.
What was the biggest challenge?
Probably Directing the "Camp Blood" sequels. I made both films in the middle of a Midwestern Winter, but they had to appear to be shot in the Summer. So we actually had to re-shoot many scenes after the Producer didn't approve of how the females were dressed (all bundled up!) in the film. I had to make both films on a total of $200 (not $200,000, just $200!) and I only had 2 weeks to complete them. They weren't very much fun to make due to the terrible working conditions which played a factor in how the films turned out and were received by fans. I sort of feel like those movies were a waste of my time and wish that I could do it over, done right.
What would be your dream project?
This "Killer Tomatoes" project coming up truly IS a dream project for me. Other than that, getting to Direct a sequel or remake of "
The Texas Chain Saw Massacre
" or "Child's Play".
Who are some people you would like to work with?
David Lynch,
John Carpenter
or
Rob Zombie
. All 3 have inspired my career in different ways. It would be an honor to work on ANYTHING with them. David Lynch showed me that film is art.
John Carpenter
introduced me to the importance of "atmosphere" in a movie.
Rob Zombie
(at least in the 90s) is a creative genius with a wild trademark style, one similar to what I want to be known for.
What else are you working on?
I'm also a Rapper known as "Dirty D". I have 2 albums and a mixtape out. Recently, I've joined forces with ex-"Brave Souls" Rapper "Double Gee" and we formed "City Bros". Our first single and video titled "Lit" will be out real soon!
What is a fun fact that would surprise fans?
When I was starting out, I shot most of my movies
in 3 days
or less.
What are you watching on tv these days?
My taste for television sides more "retro". When I have time, I watch a lot of reruns of 90s sitcoms, that's the stuff I really love: Married With Children, Roseanne and Step By Step. As for "modern" programming, my partner and I often conclude our evenings with an episode or two or "Mom", "Gordon Ramsey's 24 Hours To Hell", "9-1-1", "Superstore" or "The Conners". I still usually stick with sitcoms, but I make an exception for "reality tv" with Gordon Ramsey because he really helps people turn their lives and businesses around and I see a lot of benefit in what he does for people. It isn't just pure exploitation like most of the reality television that is out there.
Anything else you want to tell America?