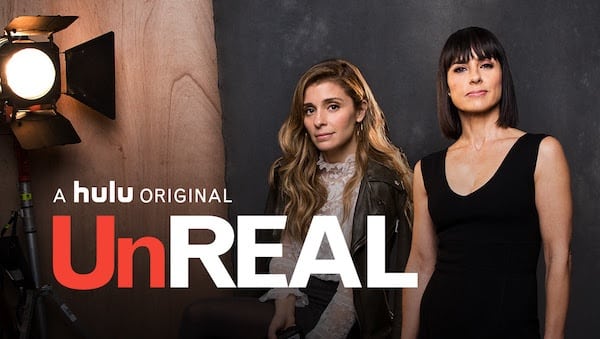 SANTA MONICA, CA [July 16, 2018] Everlasting has moved its set to Hulu. In a new deal between Hulu and A+E Studios, the fourth and final season of fan favorite drama series, UnREAL, is now available to stream in its entirety on Hulu. The final installment joins Hulu's award-winning originals slate and brings together the complete UnREAL library, all on Hulu.
Starting today, fans of UnREAL can immediately dive into the new season. The deal also brings the complete series together on Hulu, making it possible to discover, watch and re-watch all of the steamiest moments, most memorable elimination ceremonies and killer cliffhangers from throughout the show's four seasons.
Season four of UnREAL follows Rachel (Shiri Appleby) and Quinn (Constance Zimmer) as they return to the set of Everlasting for an "All-Stars" themed season. With former contestants, and a new format, this season is poised to be even more dramatic than ever. Co-creator Sarah Gertrude Shapiro and showrunner Stacy Rukeyser both return for Season 4. New cast members include François Arnaud, Natalie Hall, Meagan Holder and Alejandro Muñoz. Constance Zimmer returns as director for one episode, and Shiri Appleby directs two episodes, including the series finale.
Since its premiere on Hulu, UnREAL has consistently drawn in viewers who could not wait to watch the show. On average, viewers of the series are bingeing 3-4 episodes in one session, and complete full seasons in a matter days.
"UnREAL has captivated audiences on Hulu since season one, so when this opportunity came to us, we knew we couldn't miss out," said Craig Erwich, Senior Vice President of Content, Hulu. "This is a unique way to both satisfy fans of the show, while also continuing to introduce it to new audiences."
"We love season four of UnREAL and its visionary creativity in bringing back many favorite characters for an all-star competition. When the opportunity to partner with Hulu arose, we immediately saw the huge benefit to UnREAL's loyal fans, as well as a unique way of recruiting first-time viewers to this ground-breaking series," said A+E Studios' Barry Jossen. "UnREAL has been an incredible ride filled with awards, critical recognition, committed fans and, best of all, insightful cultural dialogue throughout its run. We expect season four to deliver another great round of cultural influence with its timely themes."
Following its first season, UnREAL quickly became one of the standout drama series of 2015, winning a prestigious Peabody Award and earning spots on "Best of" year-end lists including TV Guide, The Wall Street Journal, New York Times, Variety, Hollywood Reporter and Buzzfeed. The series has also received an AFI Award, two Emmy Award nominations, and Critics' Choice Awards nominations, including "Best Drama Series;" "Best Actress in a Drama," Shiri Appleby; and won for "Best Supporting Actress in a Drama Series," Constance Zimmer.
Produced by A+E Studios, UnREAL's fourth season is executive produced by showrunner Stacy Rukeyser and co-creator Sarah Gertrude Shapiro. Sally DeSipio, Peter O'Fallon, Jessika Borsiczky, Jordan Hawley and S. Lily Hui also executive produce, with co-creator Marti Noxon and Robert M. Sertner serving as consulting producers. Jessika Borsiczky also serves as a director for season four.
The new deal reinforces Hulu's commitment to super-serve fans and offer a premium slate of original programming. Season four of UnREAL joins a full catalogue of series featuring strong female leads on Hulu including the Emmy- and Golden Globe Award-winning series The Handmaid's Tale, Harlots and the recently-greenlit Little Fires Everywhere.
ABOUT HULU
Hulu is a leading premium streaming service that offers instant access to live and on demand channels, original series and films, and a premium library of TV and movies to more than 20 million subscribers in the U.S. Since its launch in 2008, Hulu has consistently been at the forefront of entertainment and technology. Hulu is the only streaming service that offers both ad-supported and commercial-free current season shows from the largest U.S. broadcast networks; libraries of hit TV series and films; and acclaimed Hulu Originals including Emmy® and Golden Globe Award-winning series The Handmaid's Tale, The Looming Tower, Future Man, Marvel's Runaways, The Path, 11.22.63, and Golden Globe nominated comedy Casual, as well as upcoming series Castle Rock, The First, Catch-22 and Little Fires Everywhere. In 2017, Hulu added live news, entertainment and sports from 21st Century Fox, The Walt Disney Company, NBCUniversal, CBS Corporation, The CW, Turner Networks, A+E Networks and Scripps Networks Interactive to its offerings – making it the only TV service that brings together live, on-demand, originals, and library content all in one place, across living room and mobile devices.
ABOUT A+E STUDIOS
A+E Studios is the studio unit of the award-winning global media company A+E Networks, LLC. A+E Studios creates, produces and distributes high-quality scripted programming across all networks and platforms in the A+E Networks portfolio, including Lifetime®, HISTORY®, Lifetime Movie®, and A&E IndieFilms®, as well as outside buyers. A+E Studios' slate of programming consists of scripted series, event series and movies, including the Peabody Award-winning UnREAL; the event miniseries ROOTS, the action drama SIX, the breakout series Knightfall, and the forthcoming series Project Blue Book for HISTORY; and YOU from Greg Berlanti, premiering on September 9, as well as and the upcoming Jenji Kohan-produced series American Princess for Lifetime, among others. Following its first full production year, A+E Studios received 16 Primetime Emmy® nominations including Outstanding Limited Series for ROOTS.