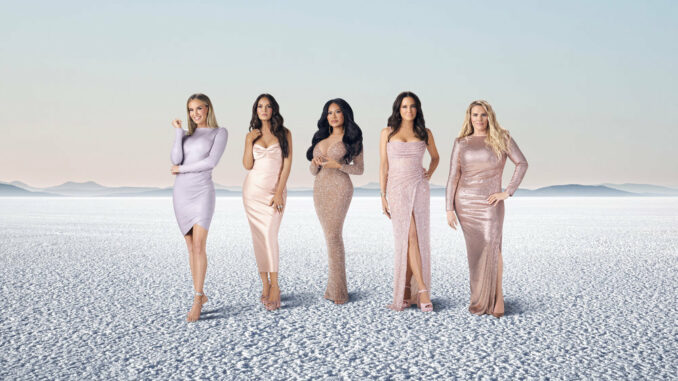 Read Time:
2 Minute, 7 Second
The Real Housewives of Salt Lake City Snark and Highlights for 10/12/2022
Why does it seem like these women are not taking Whitney's talk about her abuse seriously?
Meredith and Lisa are going to turn this talk that was probably SO hard for Whitney and making it about their own drama? WTF? This poor woman opened up about her abusive past (which is so difficult to talk about–trust me, I know!) and they are fighting over past drama? That is so gross.
'Have a sip of wine, have a bite of fish,' nice advice to calm down, Heather!
Now Jen is making it about her issue, which she brought on herself?
Poor Whitney never even got to finish opening up about what she wanted to share. That is really unfair. Never mind setting things on fire, I would have just been like 'screw you guys, I'm going home!' and just left.
Jen waking the women up with a megaphone is hilarious.
Does every single Housewives trip require at least one woman to bring a glam squad?
This scene with the trolley and the drink pouring each other is….something.
I am already over this fight….like seriously over it.
This horseback riding modeling shoot or whatever it is supposed to be is so unintentionally hilarious.
A Garbage Whore Lingerie Party sounds like a fun idea for a bachelorette party.
Why does it matter if Lisa slept with men for business purposes? Why must these girls meddle into her business if it doesn't affect them at all?
What is Whitney talking about with this Nancy Drew stuff when she is the one who brought up the issue in the first place?
This is why you don't bring up rumors! Sheesh!
I do feel bad for Lisa…whether or not these rumors are true, they are hurting her and her family.
How is Jen STILL making this all about herself?
Not gonna lie, I would have kicked Meredith out of my room too.
If I were Lisa, I would have noped right out of this and left.
'I would give a blow job for a burger.' Um, okay there, Heather….burgers are delightful, but not blow job worthy.
Why would Heather want that information on Lisa?
Now Heather and Whitney are fighting….over this stupid rumor that is irrelevant to both of their lives.
More next week, stay tuned!