Mario Lopez to Collaborate with Big Lots
Mario Lopez to Collaborate with Big Lots 
Big Lots, Inc. (NYSE: BIG), one of the largest neighborhood discount retailers in the U.S., is kicking off the New Year by offering Mario Lopez's line of workout gear, protein powders, recovery essentials and more home gym must-haves, including products exclusive to Big Lots. These new products are featured in "The Lot," a rotating, seasonal grouping of exceptionally priced products located near the entrance of each Big Lots store. The Lot theme for January is "New Year, New You," which includes the Mario Lopez product line, as well as the Echelon fitness bike, workout clothing, home gym organization and more.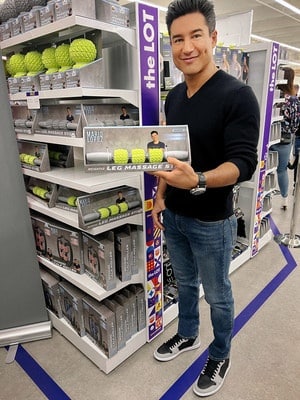 "I can't wait to welcome more 'BIGionaires' to the Big Lots Fit Fam this year," said Lopez. "I'm honored that Big Lots has welcomed me and my family into its big family and I'm excited to see everyone crush it in 2022!"
Big Lots began rolling out The Lot to its stores in 2020 with very positive customer feedback. Today, The Lot is featured in nearly 1,400 store locations across the country. The company switches out the trendy, themed merchandise in The Lot approximately every six weeks to inspire customers to return and see what exciting new products they can find next. Past themes have featured eclectic collections of nostalgic games and clothing items, outdoor activities, home organization and more.
"Our customers love shopping at Big Lots for the exceptional value and surprising products we offer every time they visit," said Bruce Thorn, president and CEO of Big Lots. "We're the home of the hunt for bargains and treasures, and The Lot helps us take that idea a step further by offering a dynamic, constantly changing area in our stores where we can offer new merchandise categories anchored in themed presentations."
Big Lots offers a unique shopping experience — part treasure hunt, part bargain hunt and part everyday necessities — to its growing community of "BIGionaires," or customers who feel like a million bucks searching for the best deals. To order online or find your nearest store, visit biglots.com.