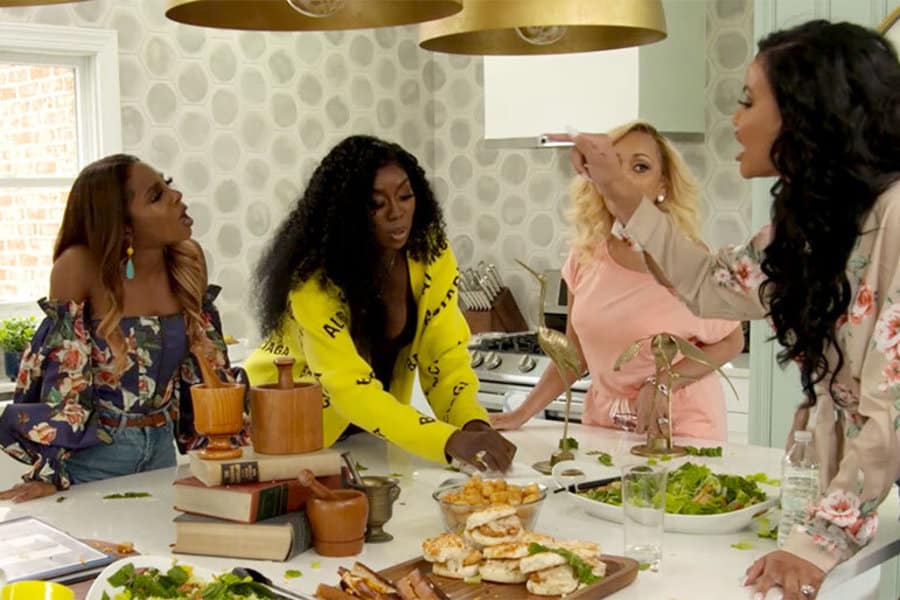 Read Time:
2 Minute, 18 Second
The Real Housewives of Potomac Highlights for Tossing Salads and Spilling Tea (Bags)
Here are the highlights from this week's episode of The Real Housewives of Potomac Tossing Salads and Spilling Tea (Bags)!
The men are WAY too entertained by this fight.
Candiace way stepping way out of line.
I am amazed that all the women are rallying around Mia and want her to stay. I also love how they told her to stop talking business and have fun.
Karen's pep talk to Mia is what all women need…never let anyone take away your truth.
Chris calling Candiace out on her behavior is the BEST. She needed to be put in her place.
Mia worrying about her mom and the comments being made about her is so sweet. It is obvious that she loves her very much.
Chris telling Candiace to put the ball in Mia's court by saying they won't disrespect each other just made him the most logical househusband on the show.
It is so sweet how Chris is really nice to Ashley and congratulating her on the baby.
How did Chris get stuck cleaning up?
Karen needs to narrate my life. She is the best combo of snarky and hilarious.
Gizelle saying she is more or less there for the free trip is probably the most honest moment of the season so far.
I take it back, Chris saying he is just there to drink is the most honest moment.
Again, how does Chris get stuck doing everything? It was nice of him to help Gizelle, but still….
FINALLY, these women call Candiace out for being so nasty and tell her she was wrong!
I want that leopard jumpsuit Robyn is wearing.
Welcome shots could lead to a fun time….or a major disaster.
Wendy and Eddie color coordinating is so corny….but so sweet.
I am no prude, but this raunchy sex talk is a bit out of my comfort zone. Just….wow.
The seafood place they are out sounds and looks LEGIT!
The random dudes who got them shots were married? That is weird….but Ashley's reaction was funny. She really wanted to get Gizelle a man!
I loved how Karen went up to them and told them to get their wives whatever they wanted.
Chris looks like he wants to be anywhere but at that dinner table.
Those dudes look so sorry that they got them shots.
I am half expecting Chris to carry Candiace out of the restaurant surfboard style like a kid throwing a tantrum in a grocery store.
I want to see a Dre/Chris bromance.
These people in the restaurant need more than just an apology. They need their meals comped for dealing with this BS!
More next week, stay tuned!