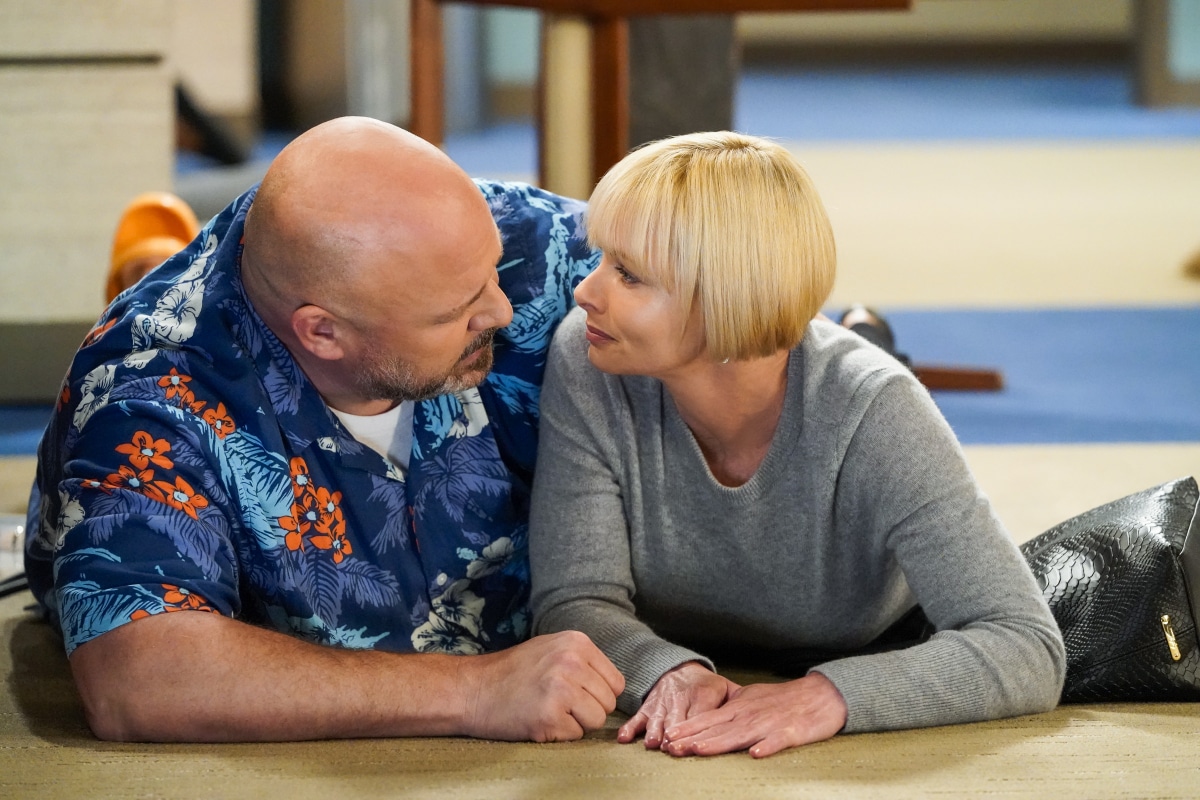 Read Time:
3 Minute, 45 Second
ICYMI: Mom Recap Scooby-Doo Checks and Salisbury Steak
The episode opens with Bonnie (Allison Janney) yelling at Trevor (Rainn Wilson) about being unkissable. However, he is entranced by his tea and making sure it is properly seeped. He also thinks she is exaggerating the situation, leading to her describing her fight with Adam.
It all began with her and Adam (William Fichtner) having dinner together, which consists of his famous homemade BBQ sauce. Bonnie tries to get some on her food, but ends up squeezing it too hard and spilling it all over herself. She gets upset when she discovers it was caused by a piece of onion that got stuck because it is date night…..and she expected kissing. Adam doesn't see it as a big deal, which causes a fight.
Trevor still doesn't pay attention, so Bonnie tells him that she
is going to break her sobriety and he continues to ignore her. She finally has had enough and calls him out on not paying attention. As she goes to leave (without paying) she notices the wizard his ex-wife took back after the divorce. She goes off on a rant and storms out.
Jill (Jaime Pressly) is at the bank picking up a pin for Tammy's sober birthday when she runs into Andy (Will Sasso). He is dressed in casual clothes for his day off, causing her to tease him. The teller goes to get the pin, leading to more bantering between the former couple.
Bonnie runs into Marta (Virginia Montero), who tells her that the ex-wife is back.
Andy asks Jill for help in picking out his new checks when a bank robber comes in. He pulls her to the ground to keep her safe, even though they are both scared.
Marjorie (Mimi Kennedy) and Tammy (Kristen Johnston) are upset that Bonnie and Jill are not there for Tammy's sober birthday. Tammy tries to get Wendy (Beth Hall) to fake a stroke or a heart attack, but she refuses. She is wondering why she bothered to celebrate, so Marjorie reminds her that her sober birthday is a big deal.
Bonnie confronts Trevor, who admits he is meeting his ex-wife for dinner. She thinks this is a bad idea and tries to turn the tables and play therapist with him.
Jill and Andy are still at the bank, with him trying to comfort and protect her by calming her down and shielding her body. However, he ends up squishing her.
They continue to talk and he admits he made a mistake by letting her go. They end up kissing. The teller tells them they can leave, but Jill tells her to hold on so they can continue.
Bonnie and Trevor continue to talk about his relationship, with him taking the blame for some things that happened. He thinks this time is going to be different, but Bonnie tells him he is afraid he won't meet anyone else, causing him to go silent and eat his Lean Cuisine.
Marjorie and Wendy give Tammy her sober birthday cake. Tammy makes a speech, where she calls out Bonnie and Jill for not being there. She says she isn't there to complain and grateful to be sober…..as she texts back and forth to Bonnie.
Bonnie tells Trevor that she cannot figure out why he wants to go back to Sandra and he admits she was his first relationship. He says there was a girl in high school he liked, but never had the courage to ask her out. Bonnie convinces him to look her up and give her a call, leading to them making plans together.
Andy and Jill drive home together and talk some more about their relationship. He admits he was scared and wants to get back together. They pull over and seal the deal with a kiss.
Trevor is thrilled to have plans with his one that got away and tosses the wizard out the door. At that moment, a big gust of wind appears and Marta disappears.
Bonnie recounts the story at the bistro as they all share a pie. She claims Marta became a crow during the wind gust. Jill bursts in to tell them she and Andy got back together.
The episode ends with Adam worried that Trevor is on sabbatical with his new girlfriend, but more than willing to kiss Bonnie.