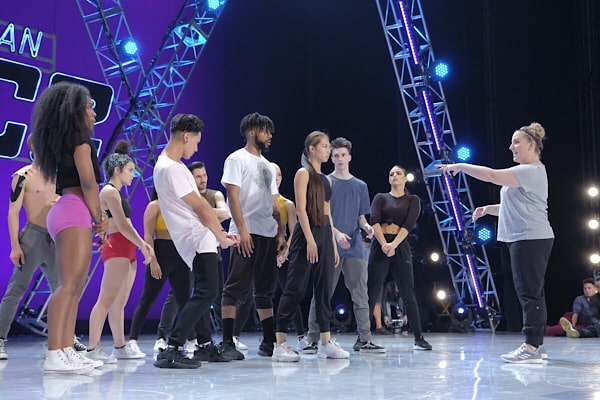 Read Time:
1 Minute, 35 Second
It is the big night on Fox's So You Think You Can Dance.  We are finally going to find out who is in the top twenty. Ten boys and ten girls will be chosen by our judges (Nigel Lythgoe, Mary Murphy, Dominic Sandoval and Laurieann Gibson) to join this elite group of dancers. 
First, we have to get through more time at the Academy. We pick up where we left off last week….with the contemporary group, run by Mandy Moore.
The people in this group include Jarrod and Luke. They both seem to be struggling, despite the fact that this genre of dance is their forte. They are sadly eliminated in this round. 
Juliette, Kailei and Madison are the next to perform. While they seem to have a better time with this dance than the guys, Juliette and Kailei are still eliminated. Madison, however moves to the next round, with her boyfriend Jarrod (the one who got eliminated) thrilled for her.
The next round is a mix of ballroom, hip hop and contemporary run by Mandy and Robert Roldan. There are only 43 dancers left and the pressure is on. They do a group dance and find out who made it to the next round. 
Sophie, Mariah and Melany are safe, while Sydney is sent home. 
Next up we have Ezra find out he got saved, along with Stefan, Eddie and Madison. Desi, Jordyn, Caroline, James and Elan are eliminated.
Solo time! Gino and Sumi especially stood out, while others, such as Eddie seem to feel the pressure. 
Time for the top 20 results. To make things easier, I am just listing the top guys and girls. (Thank you mjsbigblog for confirming these)
Top 10 Guys
Bailey
Brandon
Benjamin
Ezra
Vlad
Nathan
Aleksandr
Gino
Clocks
Eddie
Top 10 Girls
Anna
Sophie
Ashley
Sofia
Nazz
Madison
Melany
Stphanie
Sumi
Mariah
Final cuts next week. Stay tuned.