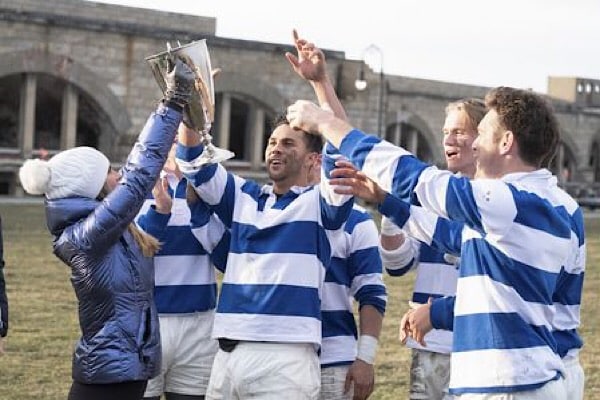 Read Time:
3 Minute, 12 Second
Tonight's episode of ABC's The Bachelorette continues on from last week's, where Hannah took the two Lukes aside to give them a good talking to. We pick up with Hannah making them talk it out and them fighting again. At this point I would just quote Dr. Who and tell them both F**KITY BYE, but that is just me. 
This goes on for farrrrr too long and I end up tuning them all out. The guys are wondering what is going on, especially since we just cut to the rose ceremony. As a reminder, Garrett, Jed and Tyler all have roses.
Luke S apologizes to Hannah about the whole situation, but warns her about Luke P. He then leaves the show. I can't really say I blame him. Better luck in Paradise?
Back to the Rose Ceremony.
Roses go to:
Peter (sexy pilot)
Connor (no clue)
Dylan (who?)
Dustin (dude with nose ring)
Mike (Air Force dude)
Kevin (who?)
Devin (no clue)
Grant (Seriously….who ARE these guys?)
Luke P (Public enemy #1)
Sent home:
John Paul Jones (John Paul Jones….who was basically a mute this entire season)
Matteo (the sperm donor who maybe said 3 words this entire season)
Did she admit she is confused about Luke P? 
Now we are in Scotland and the guys could not be happier. Mike gets the first date and explores Scotland with Hannah. They try different kinds of foods, walk around and just enjoy each other's company. There is also a lot of kissing. They end the night with dinner, conversation and him getting a rose. 
While the date happens, Luke fights with the other guys and again,  I tune it out.
Everyone except Luke are invited on the group date, which means he has the second one on one. 
The group date is a battlefield war reenactment, complete with the guys in kilts. It reminds me of the episode of Psych when Lassiter, Shawn and Gus tried to solve a murder at the Civil War reenactment. It actually looks kind of fun! Apparently this is quite realistic when it comes to the kilt wearing, because none of them are wearing undies and Hannah makes a lot of bagpipe size jokes. 
Jed wins the battle.
At the after party, Hannah mingles and makes out with the guys. Jed gets the rose. 
At the hotel, Mike and Luke argue and since it is the same thing we have seen all throughout the night, only with a different guy, I am tuning out again. The next thing I know, Luke is on a walk and Mike is doing a dramatic reading. 
Luke's date consists of him and Hannah doing a lot of talking about the drama in the house, how he feels about what is going on and I just can't with this episode anymore. She gets frustrated and walks away for a bit. When she comes back, they continue their back and forth and ENOUGH! I am so sick of this dude. I literally learned nothing from this except she needs more than he is giving at this point. 
They look at the castle and she keeps acting all sassy with him. this attitude continues through dinner and she seems to be trying to figure out who he is as a person. This whole episode is giving me a migraine. He keeps defending himself and he seems to be in love, but wanting to figure things out. She is still confused and keeps insisting she is real. 
We literally spent 45 minutes on this drama. 
The guys are discussing what they think Luke's fate will be and how Hannah will handle everything. She isn't sure how to handle things and we have to wait until next week to find out what happens.