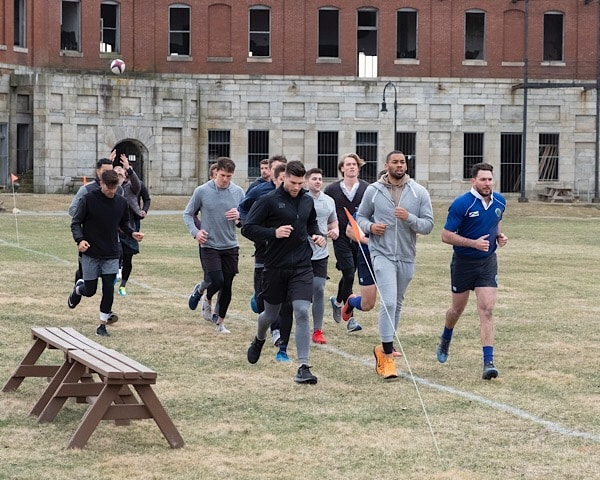 Read Time:
2 Minute, 53 Second
Tonight's episode of ABC's the Bachelorette takes us to Rhode Island. Hannah and her final fifteen men will go on dates and explore the smallest state in the country.
Date One: However, Jed's date takes them to Boston and Quincy Market, which is one of my favorite places in the world. They also tour the city and it is beautiful and of course, full of incredible history. They also enjoy ice cream, basketball with the Boston Celtics and a lot of canoodling.  There is also dinner and conversation. He gets a rose. 
She gets advice from the players on what to look for in a man.
Group Date: Everyone except Tyler is on this date, giving him the second one on one by default. The group date is a rugby game that results in Kevin getting a shoulder injury and ending up in the hospital. Luke P gets aggressive and upsets several of the guys, especially when he randomly goes after Luke S. They all think Hannah should be aware of this and plan to tell her at the cocktail party. 
Luke P tells her about how he felt Luke S was too rough with him and how he retaliated. The situation worries Hannah and he tells her there aren't any other problems with any of the other guys. He also alludes to the fact that Luke S isn't there for the right reasons. She gets Luke S's side of the story and he says that everyone has an issue with Luke P. She also says that it bothers her that Luke P said he isn't there for the right reasons. 
Hannah asks the other guys what is going on and they all seem to not like Luke P.  Luke P continues to defend himself and says Luke S went after him during the rugby game. The other guys seem to think he isn't telling the truth. The two Lukes continue to fight as Hannah tries to bond with the other guys. Garrett gets the rose. 
Date Three: Hannah is in a bad mood due to the issues on the group date, so she talks to Tyler about it. Tyler tells her it will be okay and they decide to have a fun day. Their date is on a boat and consists of canoodling, laughing and fun moments. They also go to a tavern and enjoy some brewski. She admits she thought he was a player and he admits that his father almost died before the show. He was taking care of him and they watched her on The Bachelor. He said that his father felt that Hannah was his girl and that the feeling was confirmed when they met. He gets a rose and they celebrate by seeing a country concert. 
At the cocktail party, everyone mingles and Peter asks her to be his girlfriend and she says yes, even though she has fourteen other men vying for her love. She also loves to make out with him. 
Michael says he has three queens in his life, his sister, mom and grandma. He wants her to be the last. 
The night is marred by the Lukes drama and I tune out because I am sick of it. They keep fighting, telling stories and driving Hannah nuts. She finally talks to them both and we have to wait until next week to see how it all goes down.