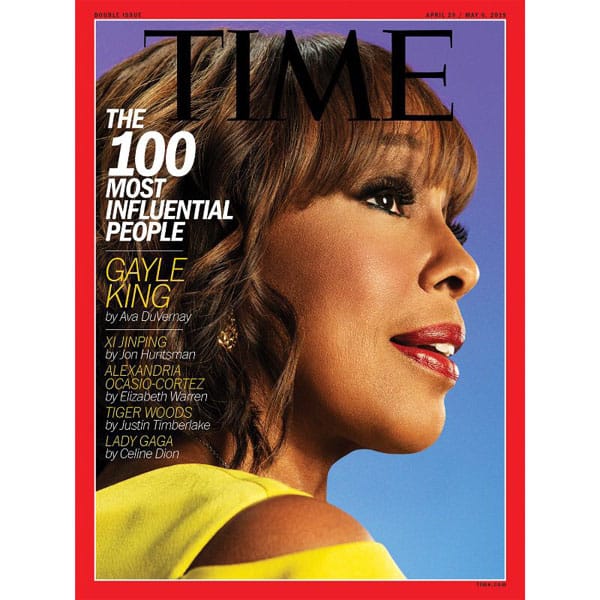 Read Time:
1 Minute, 17 Second
(New York, NY) — TIME named Gayle King to the 2019 TIME 100, its annual list of the 100 most influential people in the world. The full list and related tributes appear in the April 29, 2019 issue of TIME, available on newsstands on Friday, April 19, and now at time.com/time100. The news was discussed on CBS THIS MORNING today: https://cbsn.ws/2UH7D3C
Filmmaker Ava DuVernay wrote the tribute to King, calling her "one of the all-time great broadcast interviewers." She continued, "what most don't understand about Gayle is that this perfected proximity to others is a superpower that the best journalists possess. To be present, but not centered. To observe. To bear witness. Gayle has long honed this craft."
The list, now in its sixteenth year, recognizes the activism, innovation and achievement of the world's most influential individuals. TIME editor in chief Edward Felsenthal has said of the list in the past, "TIME's annual list of the world's most influential people is a designation of individuals whose time, in our estimation, is now. The TIME 100 isn't a measure of power, though many on the list wield it. Nor is it a collection of milestones accumulated. As our staff considers candidates, we often find ourselves wowed by those with stunning lifetime achievements."
CBS THIS MORNING airs weekdays from 7:00-9:00 A.M. ET/PT on the CBS Television Network.
Follow the show: @CBSThisMorning
Credit: CBS News, Photo credit: Pari Dukovic for TIME