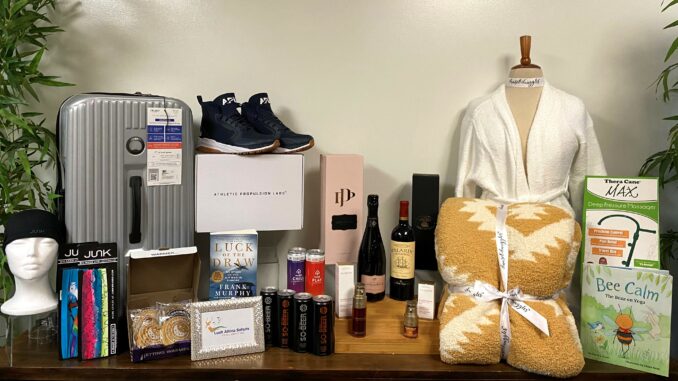 Read Time:
4 Minute, 15 Second
Backstage Creations Collaborates With American Cinematheque
Backstage Creations, originator of the Celebrity Gift Suite, announces the contents of the gift bags produced for the American Cinematheque Tribute honoring Ryan Reynolds. The star-studded event takes place at The Beverly Hilton on November 17th. Two bags, filled with gifts will be autographed by the star-studded cast, will be auctioned on Charitybuzz.com to raise money for American Cinematheque. http://www.charitybuzz.com
The gift bags are filled with an assortment of gifts including a trip to Africa from Lush Africa Safaris, APL footwear, Sunset Snuggles robes and throws, SoBeer, Clarins and more packaged in high end Delsey luggage. Recipients of the gift bag include cast members such as Will Ferrell, Octavia Spencer, Gal Gadot, Salma Hayek, Hugh Jackman, Jeff Bridges and more.
Gift bag items include:
Muse- Meet Muse 2, the brain sensing headband and your very own personal meditation assistant- Powered by research-grade EEG technology, Muse's real-time biofeedback technology teaches you how to tune into your brain and body so you can know when you're in the zone and unlock your brain's performance. www.choosemuse.com
Backstage, each presenter along with Ryan Reynolds, will autograph two gift bags, which will be auctioned off on-line with all the contents included. The auction will take place on www.charitybuzz.com starting on November 22nd   Proceeds will be donated to American Cinematheque.
Ryan Reynolds is the 36th honoree of The American Cinematheque.  Since 1986, the organization has honored an individual who has made a significant contribution to the art of the Moving Picture.  Past recipients have included Scarlett Johansson, Spike Lee, Charlize Theron, Bradley Cooper, Amy Adams, Ridley Scott, Reese Witherspoon, Matthew McConaughey, Jerry Bruckheimer, Ben Stiller, Robert Downey Jr., Matt Damon, Samuel L. Jackson, Julia Roberts, George Clooney, Al Pacino, Steve Martin, Nicole Kidman, Denzel Washington, Nicolas Cage, Bruce Willis, Jodie Foster, Arnold Schwarzenegger, John Travolta, Tom Cruise, Mel Gibson, Rob Reiner, Michael Douglas, Sean Connery, Martin Scorsese, Ron Howard, Steven Spielberg, Robin Williams, Bette Midler and Eddie Murphy.