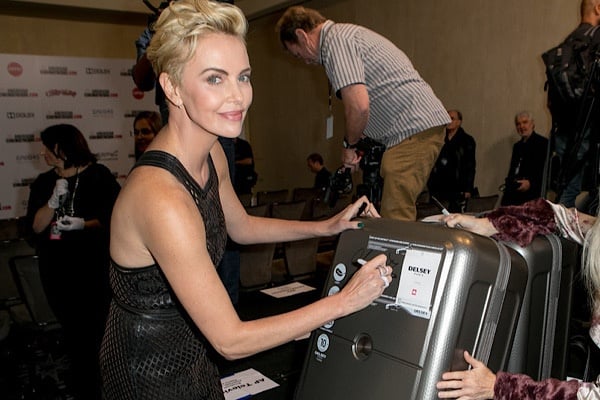 Backstage Creations, originator of the Celebrity Gift Suite, announces the contents of the gift bags produced for the American Cinematheque Tribute honoring Charlize Theron. The star-studded event takes place at The Beverly Hilton on November 8th. Two bags, filled with gifts will be autographed by the star-studded cast, will be auctioned on Charitybuzz.com to raise money for American Cinematheque. http://www.charitybuzz.com
The gift bags are filled with a luxurious assortment of gifts including jewelry, fashion and accessories, fragrance, spirits, chocolate and exotic resorts packaged into elegant Delsey Luggage.  Recipients of the gift bag include cast members such as Kristen Stewart, Seth Rogan, Nicole Kidman, Margot Robbie and more.
Gift bag items include:
Backstage, each presenter along with Charlize Theron, will autograph two gift bags, which will be auctioned off on-line with all the contents included. The auction will take place on www.charitybuzz.com starting on November 13.  Proceeds will be donated toAmerican Cinematheque.
Charlize Theron is the 33rd honoree of The American Cinematheque.  Since 1986, the organization has honored an individual who has made a significant contribution to the art of the Moving Picture.  Past recipients have included Bradley Cooper, Amy Adams, Ridley Scott, Reese Witherspoon, Matthew McConaughey, Jerry Bruckheimer, Ben Stiller, Robert Downey Jr., Matt Damon, Samuel L.Jackson, Julia Roberts, George Clooney, Nicolas Cage, Sean Connery, Tom Cruise, Michael Douglas, Jodie Foster, Mel Gibson, Ron Howard, Nicole Kidman, Steve Martin, Bette Midler, Eddie Murphy, Al Pacino, Rob Reiner, Arnold Schwarzenegger, Martin Scorsese, Steven Spielberg, John Travolta, Denzel Washington, Robin Williams, and Bruce Willis.
About American Cinematheque:
Established in 1981, the American Cinematheque is a 501 C 3 non-profit viewer-supported film exhibition and cultural organization dedicated to the celebration of the Moving Picture in all of its forms. At the Egyptian Theatre, the Cinematheque presents daily film and video programming which ranges from the classics of American and international cinema to new independent films and digital work. Exhibition of rare works, special and rare prints, etc., combined with fascinating post-screening discussions with the filmmakers who created the work, are a Cinematheque tradition that keep audiences coming back for once-in-a-lifetime cinema experiences. TheAmerican Cinematheque renovated and reopened (on Dec. 4, 1998) the historic 1922 Hollywood Egyptian Theatre. This includes a state-of-the-art 616-seat theatre housed within Sid Grauman's first grand movie palace on Hollywood Boulevard. The exotic courtyard is fully restored to its 1922 grandeur. The Egyptian was the home of the very first Hollywood movie premiere in 1922. In January 2005 the American Cinematheque expanded its programming to the 1940 Aero Theatre on Montana Avenue in Santa Monica. www.americancinematheque.com
About Backstage Creations:
BACKSTAGE CREATIONS was created in 2000 by Karen Wood, formerly a talent coordinator on over 50 award shows, to give major corporations as well as up-and–coming designers the exclusive opportunity to personally introduce their products and services to celebrities.  BACKSTAGE CREATIONS originated the gifting Retreat concept and has produced Celebrity Retreats at various industry honors including the Emmy® Awards, Screen Actors Guild Awards®, Teen Choice Awards, MTV Awards, Tony Awards, BET Awards and Billboard Music Awards. BACKSTAGE CREATIONS features an emphasis on charitable donations at each of our Retreats giving our celebrity attendees the opportunity to both give and receive through unique partnerships at our events.  Backstage Creations Retreats and gift bags have been featured on Entertainment Tonight, Access Hollywood, Extra, E! and our clients appear in OK Magazine, The Hollywood Reporter, People.com, US Weekly, In Touch, Town & Country and many other print and online publications. www.backstagecreations.com