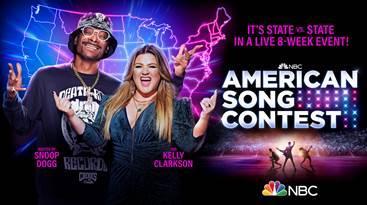 Read Time:
3 Minute, 3 Second
American Song Contest Recap for 4/4/2022
Last week's winners are Jordan Smith, Chloe Fredericks, Jonah Prill and Broderick Jones.
Texas: Grant Knoche with Mr. Independent–I cannot believe one of the Kidz Bop munchkins is on the show all grown up! This is an interesting mix of music and something I want to hear more of in the future. He seems to be the whole package and I am here for it all the WAY!
Louisiana: Brittany Pfantz with Now You Do--I can see how she is inspired by Adele because you can hear it in her music. She definitely has something special going on.
Tennessee: Tyler Braden with Seventeen–I love the country feel of his music, but there is something different about his voice that makes him stand out. I can't put my finger on it, but it is quite amazing. I hope we hear more from him SOON!
New Jersey: Brooke Alexx with I Don't Take Pictures Anymore–I love her pop princess vibe. She reminds me of the late nineties/early two-thousands greats such as Britney and Christina.  The entire performance was fun to watch and I can see her going far in her career.
Alabama: Ni/Co with The Difference–This group consists of Danielle and Colton, who are also a couple. It is a beautiful love song that just screams romance and power ballad. You can feel the love as they sing to each other….so beautiful.
Florida: Ale Zabala with Flirt–For some reason, this reminds me of the undercover pop performance Alexa PenaVega did at the end of Spy Kids 2. It is a fun hybrid of pop and Latin music and is definitely going on my running playlist.
Alaska: Jewel with The Story–I have been a huge Jewel fan since day one and this song proved why I am still a fan. Not only is it sung beautifully, but it has a lot of truth behind it and is so relatable–no story is over just yet, life may turn, but the story goes on as it is meant to be and dreams will still come true.
South Carolina: Jesse LaProtti with Not Alone–He made this song for his mother, who struggles with MS. It is by far the best of the night, the power, the inspiration, the performance as a whole—it all came together and formed something so special.
South Dakota: Judd Hoos with Bad Girl--This reminds me of the kind of music you would hear at a bar on a Friday night. I quite enjoy it and it brings me back to my early to late twenties when my friends and I would watch local bands play.
Delaware: Nitro Nitra with Train –I was getting some serious P!nk vibes from this performance. It was quite the rock bop that had me bouncing in my seat from start to finish….and another one that is going on my workout playlist.
Northern Mariana Islands: Sabyu with Sunsets and Seaturtles--There is something so sweet and peaceful about this song. I feel like it is the perfect song to listen to in order to unwind after a long day.
Colorado: Riker Lynch with Feel The Love–What a way to end the night! I loved him throughout his early career and tonight made me an even bigger fan. This song is such a bop and can immediately put everyone and anyone in a good mood.
Tonight's act moving to the semi-finals: TENNESSEE!!!! MAZEL TOV!
More next week, stay tuned!