Former China Walt Disney Chairman & DreamWorks CEO Launch POP LIFE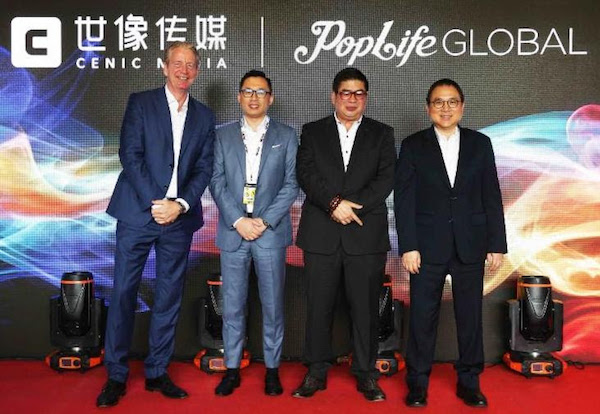 AUGUST 27, 2018 – (Los Angeles) – Pop Life Entertainment, the creative entertainment and consumer products company based in Dongguan, China is partnering with Cenic Media to form POP LIFE GLOBAL. Cenic Media is one of China's leading production entertainment groups based in Shanghai and produces films for global audiences. By teaming together to form the POP LIFE GLOBAL joint venture, it will elevate consumer/audience experiences by uniting creative forces. By merging in this new alliance, POP LIFE GLOBAL will deliver "movies, music and merchandise magic" in Asia and worldwide, while developing creative and innovative consumer products for Cenic's TV and Film content.
Under the Pop Life leadership of MD Young, Co-Founder and Chief Creative Officer, the company developed a pipeline of feature films with Underdogs Rising and Painted Beauty in post-production. A current slate of horror/thriller films are in development and pre-production at their Pro-Am Studios in South China. Together the new joint venture anticipates doing music projects, producing live fan experiences and art exhibitions.  In addition, to expanding its consumer products division to service these creative ventures.
Moreover, original artist collaborations with pop culture brands like Ron English's Popaganda, Futura Laboratories 2.0, and Madsteez WeenFaktory continue to grow. Cenic Media will be involved with these collaborations, bringing global exposure and amplifying their worldwide footprint in entertainment.
MD Young stated, "We are tremendously excited to continue our expansion with our joint venture partners led by Hanson He, founder and CEO of Cenic Media, Stanley Cheung, the former chairman of the Walt Disney Company China, and Guenther Hake, the
former
CEO of Oriental DreamWorks China. Together, our first-line of business will be to increase our presence in Greater China and strengthen the commercialization of our original IP's and horror film projects for international audiences."
Cenic Media's founder and CEO Hanson He added, "POP LIFE GLOBAL is a great fit for our expansion strategy to become a more holistic global entertainment company."  As Co-Founder, MD Young will continue his role as Chief Creative Officer. Guenther Hake, the SVP Business Development of Cenic Media will also assume the position as CEO of POP LIFE GLOBAL.
Guenther Hake elaborated, "It is a tremendous honor for me to work beside MD Young and the entire POP LIFE family. Hanson He and the Cenic Media team strengthens Pop-Life's position in pop-culture entertainment globally."
ABOUT POP LIFE ENTERTAINMENT
Pop Life Entertainment is known for working together with world-class artists and designers. They established themselves as a global brand development creative house, specializing in monetizing brand and
celebrity
products through consumer activations and immersive experiences. Pop Life Entertainment recently established The Campus, which enthrallingly houses one million square feet of combined indoor showrooms, creative houses, production facilities, and most recently, the opening of the impressive multimedia Pro-Am Studios.
ABOUT CENIC MEDIA
The Shanghai-based Cenic Media was founded in 2014 as one of China's leading Production and Entertainment Groups producing films for global audiences, investing, creating, producing, and distributing high-quality entertainment programs. Since then, Cenic Media has put forth numerous successful media, TV, and internet dramas including The Legends of Monkey King, Mr. Bodyguard, The Visioner,he and My Fox Immortal Wife.  They continue to collaborate and expand their film production with partnerships worldwide.