Marvel's Cloak and Dagger Renewed for Second Season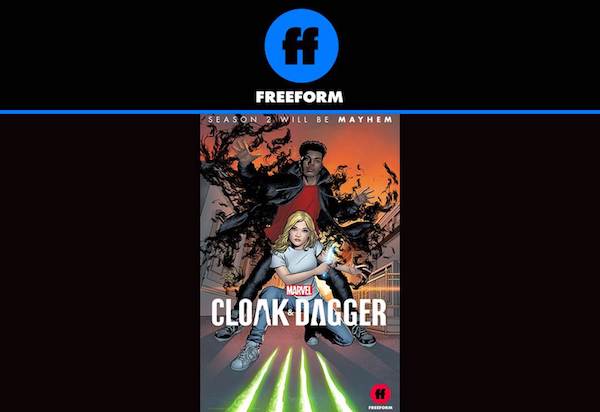 In front of over 4000 screaming fans at San Diego Comic-Con, the cast and executive producers of the critically acclaimed Freeform series "Marvel's Cloak & Dagger," today announced the series has been picked up for a second season. The "superhero show of the summer" (Vulture), will be back with 10 all-new episodes promising mayhem in spring 2019.
Onstage this evening to deliver the good news to fans in Ballroom 20 were cast members Olivia Holt, Aubrey Joseph, Emma Lahana and Ally Maki, along with executive producers Joe Pokaski and Jeph Loeb. The panel also included a special sneak peek at the upcoming two episodes including the finale where everything comes to a head for Tandy and Ty as the city of New Orleans is thrown into chaos. The two realize that it is time they face their destiny and test their powers as "The Divine Pairing" to save the city.
The premiere episode of "Marvel's Cloak & Dagger" is Freeform's No. 1 series debut in two and a half years, accumulating 4.4 million viewers across all platforms according to the new L+35 ratings this week. The critically acclaimed show is also the No. 1 new cable drama of the summer in the network's key demos (W18-34 and F12-34) and was Freeform's highest-ever debut with male viewers (M18-49). "Marvel's Cloak & Dagger" is also the No. 1 most social new scripted cable series, generating more than 1.5 million engagements across Twitter, Instagram, Facebook and Tumblr.*
Tune in on July 26 at 8 p.m. EDT on Freeform to catch the penultimate episode of season one where we find Tandy in a downward spiral, lashing out at strangers and loved ones alike. While simultaneously trying to help Tandy and reconcile with his own family, Tyrone faces an obstacle that threatens his success. Separately, Brigid's life leads to a reckless streak of her own as her search for justice goes sour. However, all these individual events meet up to cause certain doom for New Orleans.
"Marvel's Cloak & Dagger" is the story of Tandy Bowen (Olivia Holt) and Tyrone Johnson (Aubrey Joseph) – two teenagers from very different backgrounds, who find themselves burdened by and awakened to newly discovered superpowers which are mysteriously linked to one another.
The series is based on the beloved comic characters and is co-produced by Marvel Television and ABC Signature Studios.
About Freeform
Part of Disney|ABC Television, Freeform connects to audiences and goes beyond entertainment with bold, original programming and immersive social engagement. As Disney's young adult television and streaming network, it delivers a unique mix of quality original and acquired series, plus fan-favorite movies and the holiday events "31 Nights of Halloween," "Kick Off to Christmas" and "25 Days of Christmas." The Freeform app is a service that allows viewers with participating TV subscription services access to 24/7 live viewing of the network, as well as continued on-demand access via a wide array of devices.
About Marvel Entertainment and Marvel Television  
Marvel Entertainment, LLC, a wholly owned subsidiary of The Walt Disney Company (NYSE: DIS), is one of the world's most prominent character-based entertainment companies, built on a proven library of more than 8,000 characters featured in a variety of media over 75 years. Marvel utilizes its character franchises in entertainment, licensing and publishing.
Marvel Television develops and produces some of the world's most creative and popular live-action and animated programming for broadcast and cable television networks plus digital platforms including a historic deal with NETFLIX. Its portfolio of self-produced series includes "Marvel's Agents of S.H.I.E.L.D." for ABC, "Marvel's Runaways" for Hulu, "Marvel's Daredevil," "Marvel's Luke Cage," Emmy® and Peabody Award-winning "Marvel's Jessica Jones," "Marvel's Iron Fist," and "Marvel's The Punisher" for NETFLIX,  and "Marvel's Cloak & Dagger" (Freeform).  Marvel is a co-producer on "Legion" (FX) and "The Gifted" (FOX). For more information, visit marvel.com.  ©2018 MARVEL
About ABC Signature Studios
ABC Signature Studios is a division of ABC Studios spearheading development and production in all cable and streaming platforms. The artist-driven arm provides a year-round destination for development and production across the cable and streaming landscape. Signature recently received a straight-to-series order from EPIX for "Godfather of Harlem," created by Chris Brancato and Paul Eckstein, with Forest Whitaker set to star and produce. Signature and Hello Sunshine received a straight-to-series order from Hulu for the event limited series, "Little Fires Everywhere," with Reese Witherspoon and Kerry Washington attached to star and produce. Signature's new series include "Marvel's Cloak & Dagger," a co-production with Marvel Television; along with the comedy "Besties," from Kenya Barris, for Freeform; as well as Amblin TV and ABC Signature's "All About the Washingtons" for Netflix. These projects join a robust slate of returning series, including the critically acclaimed comedy "SMILF" for Showtime; "grown-ish" for Freeform; and "Marvel's Runaways" for Hulu, a co-production with Marvel Television.