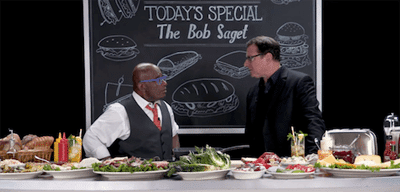 Bob Saget talked to Today's Al Roker about his life, Lori Loughlin and everything in between, all while creating the ultimate Bob Sandwich. Below are more details, courtesy of Today.
In this episode of "Cold Cuts with Al Roker," Bob Saget talks about Full House and Fuller House, his relationship with the Olsen twins, his daughter, wife and more.
When asked about Lori Loughlin and the college cheating scandal he says "I'm in the no comment world."
His sandwich creation features turkey, aioli, mayonnaise, and a few other surprise ingredients!
Watch the full episode on TODAY.com