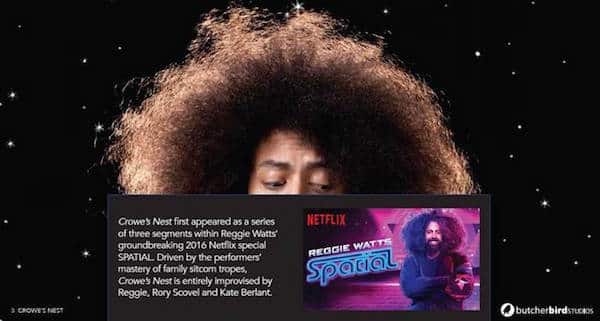 On THURSDAY, MAY 24th AT 9 PM Reggie Watts and Butcher Bird Studios will be live-streaming a fully-improvised episode of Watts' CROWE'S NEST, first featured on his hit Netflix special Spatial. The episode will reunite the original cast: REGGIE WATTS (The Late Late Show with James Corden; Comedy Bang! Bang!), RORY SCOVEL (I Feel Pretty; Those Who Can't) and KATE BERLANT (High Maintenance; Another Period). It will be executive produced by LUIS REYES and directed by STEVEN CALCOTE.
This will be a 100% improvised show – and the first of its kind in the live streaming domain. No script or dialogue will have been set up beforehand. The cast will arrive a few minutes before the show begins and the rest will be a spontaneous display of improv magic.
There will be a PRE-SHOW starting about 8 PM that will feature the set and the crew getting prepped, during which director CALCOTE and producer REYES, along with other BUTCHER BIRD STUDIOS crew members, will talk through the whole process. And there will be a POST-SHOW directly following the episode that will most likey be just as improvised as the show itself!
CROWE'S NEST will stream through YouTube via Watts' YouTube page, as well as several other streaming platforms, including SUPER DELUXE, which will also be providing an interactive social media overlay. DIGITAL DOMAIN will also be streaming a VR version live. More details on specific distribution platforms forthcoming.
BUTCHER BIRD STUDIOS will stream the event live from its Glendale studio. Also involved is production designer GARY KORDAN as a set consultant, and ANNA WENGER (Billy on the Street; Brockmire) as a consulting producer
.
ABOUT CROWE'S NEST PLAYERS
REGGIE WATTS is an iconoclastic comedian/musician, who has appeared on Comedy Bang! Bang!, The Late Late Show with James Corden, The Electric Company, as well as countless other television shows and movies. His comedy special Spatial can currently be seen on Netflix. Watts averages over 100,000 social media followers.
RORY SCOVEL is a writer for The Eric Andre Show, as well as an actor on Tru TV's Those Who Can't along with many other shows. His comedy special Rory Scovel Tries Standup for the First Time can currently be seen on Netflix. And he also appears alongside Amy Schumer in I Feel Pretty, in theatres now.
KATE BERLANT was celebrated by the New York Times as a "magnetic improvisational comic," Berlant is an experimental comedian, actor and writer who has appeared in many TV shows including Ghosted, BoJack Horseman, and Transparent. She is also featured in her own episode of Netflix Presents: The Characters.
BUTCHER BIRD STUDIOS – Butcher Bird Studios is a creative media company that has worked in film, television, industrials, commercials and the digital space, for clients such as Boeing, Intel, Viacom, and National Geographic, among many others. One of the studio's calling cards is its adoption and pioneering of new media technology: Virtual Reality, Augmented Reality, and, of course, Live Streaming.
ANNA WENGER (Consulting Executive Producer) ran production at Funny or Die for six years. She also served as showrunner on the wildly popular Billy on the Street, along with countless comedy specials and digital series, working with comedians such as Sarah Silverman, Chris Gethard, T.J. Miller, Zach Galifianakis among many others.
LUIS REYES (Executive Producer) has worked extensively in both the live theater world and the screen entertainment world. He's collaborated to create pilots with comedian Brian Regan, and the creators of The Nanny, among many others. He is also the creator and producer of the popular live stage anthology serial True Crime in Los Angeles.
GARY KORDAN (Consulting Production Designer) is an award-winning production designer who has worked on some of the biggest comedy shows around, including Key and Peele, @Midnight, Workaholics, TV Land's Teachers, among many others. And Kordan also designed the strange and wonderful set for Reggie Watts' Netflix special Spatial.
STEVEN CALCOTE (Director) has directed film and commercials all over the world
and is notable for how he incorporates new media technology into his work. Recently he has directed live stream shows for Airbnb, Nat Geo, QuickBooks, and his original narrative live streamed sci-fi series Orbital Redux will launch later this year.