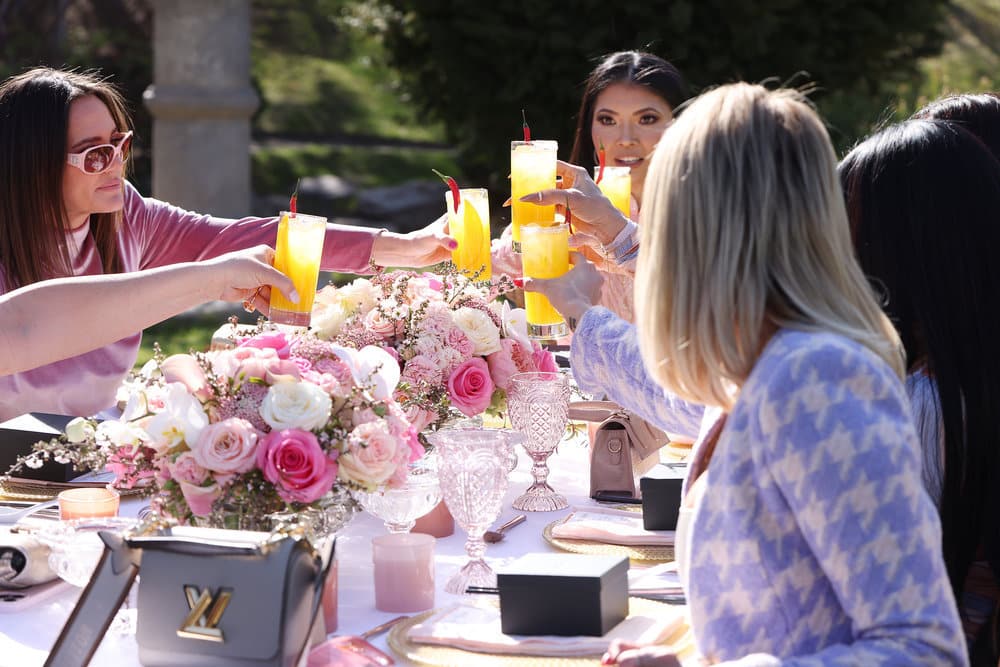 Read Time:
3 Minute, 15 Second
The Real Housewives of Salt Lake City Snark and Highlights for 12/19/2021
I have to say, Brooks has such incredible talent.
Jennie and Meredith including Teddy the Dog into their sister wife conversation was hilarious.
All the women getting together to give Jennie a sexy makeover has to be one of the funniest moments of the season. I love when they let loose and have fun.
If my husband wanted a sister wife, he would not have a first wife. PREACH, SIS!
Why the hell is Jen dressed like a Sweet Valley High student/Disco Queen love child?
How is Lisa a fair-weather friend? She said she needed a minute to process. This is such a major thing that is happening and she probably wanted to know the facts before talking to her.
Jen's makeup is not smearing at all…..and there were no tears in her eyes. Quite the opposite of Erika's mascara laden tears.
Hearing Heather's brother talk about leaving the Mormon church is such a surreal, moving moment. This is such powerful TV.
Jen and Coach's couch looks so comfy.
Jen keeps claiming she is innocent…..but she isn't talking about the charges against her specifically….she has only really talked about what happened the day of the arrest and she did nothing wrong.
The board yoga looks insanely difficult. I would be falling all over the place as well.
I agree with Lisa, there is no reason why Whitney should have called Cameron.
Jennie's lime green car is HOT AF!
This luncheon seems like it will be fun, but as always, it will end in disaster.
GO JENNIE for not rewarding her husband with sexy lingerie when he was so degrading toward her.
I know Jennie wanted everyone at the party, but she should have given Meredith a heads up about Jen coming.
Learning about Jennie's culture and Vietnamese food is so much fun. I love learning about different cultures and I love food, so this is right up my alley.
Jennie did look good in that blonde wig.
Did Mary tell Jennie she had slanted eyes? WTF? That was so inappropriate and in poor taste.
Jen is telling a different story than she told Heather earlier in the episode. She is maintaining that she knows nothing, but she is making it sound less dramatic and left out the being handcuffed to the chair, the guns etc.
Mary is making it CLEAR she thinks Jen is guilty with her line of questioning.
I am not going to lie, I do kind of feel bad for the way they are treating Jen….not for questioning her, but for telling her that they were all talking smack about her and arguing over who said the worst thing.
Lisa is right, this is a friend group, but she should have let Mary ask her question and finish talking before saying her piece.
Jennie is calling Mary out on her BS and I AM HERE FOR IT!
Mary wanted to backhand Jennie, who wanted to take Mary down for her disgusting comment. They could have had a Dynasty fight….what a missed opportunity.
I know how Lisa feels when it comes to not being defended. It's a sucky feeling and no one deserves to feel that way.
Heather laughing at Meredith's comment about Lisa screaming for a half an hour was such a WTF, out of context moment, yet such a mood. Especially when she is just sitting there drinking.
Lisa crying to Meredith about how she makes her feel safe is so sweet in a way. She may be upset, but she still loves and trusts her friend. We all need someone to make us feel safe.
Heather is trying to comfort Jen, yet Mary is saying people aren't in her corner. She should have kept her mouth shut.
More next week, stay tuned!