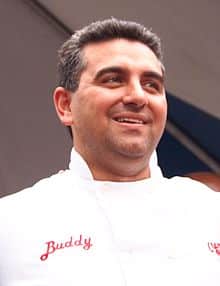 Read Time:
1 Minute, 41 Second
Buddy Valastro has been wowing America for years with his hit series Cake Boss, which currently airs on Discovery Family. He showcases some of the most intricately decorated—and delicious looking—cakes people have ever seen, leaving us amazed and hungry. (For those of you wondering, his personal favorite cake is vanilla with raspberry and chocolate ganache.)
In a recent interview with TVGrapevine, the host, bakery owner and all around incredible man gushed about this season, which is currently airing every week. (check your local listings for showtimes) He has several moments that he loves, including one where someone builds a cake that ends up being a fire breathing dragon. He thinks that is season is incredible, and cannot wait to see the reaction from viewers as it progresses. He promises that there are a lot of surprises and fun moments that will bring new things to the show and leave the audience in awe. 
However, no matter how much the show succeeds and how wonderful the contestants are, there is one thing that is more important to him than anything…his family. During the interview, while he spent a fair amount of time talking about the success of his show and bakeries, he really lit up when it came to talking about his family. For him, this is the most important thing in the world and he loves spending time at home with his wife and kids. He considers himself to be a homebody and loves just watching TV (Jeopardy, Shameless, Billions and Ray Donovan are among his favorite shows) or fishing.  
Knowing this makes me admire him more and see him in a whole new light. I had been a fan for many years, but knowing how much hie loves his family made me love him even more and remind me that being surrounded by loved ones is the most important thing one can have. I respect Buddy not only for the work he does, but for never losing sight of this important lesson.