Sammi's Favorite Things: myCharge Supports Pride Month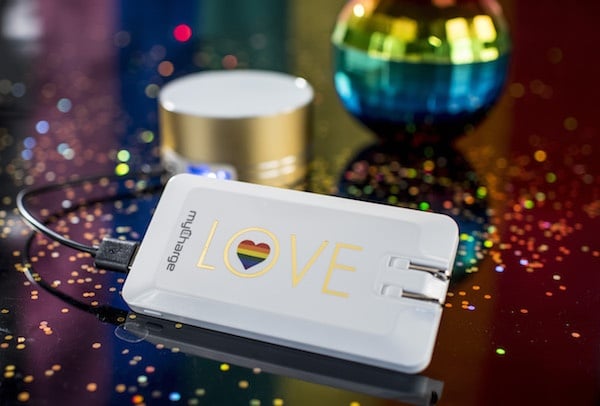 Throughout the month of June Pride Month is celebrated to commemorate the Stonewall Riots and the impact that lesbian, gay, bisexual and transgender individuals have had on history. The LGBTQ community and supporters gather at festivals, parades, picnics, concerts and workshops across the country, and between photos, social media shares and videos phone batteries are quickly drained. In honor of Pride Month and to help support LGBTQ initiatives, myCharge is introducing a Limited Edition power bank and committing 5% of sales from the charger to The Trevor Project, the leading national organization providing crisis intervention and suicide prevention services to lesbian, gay, bisexual, transgender and questioning (LGBTQ) young people ages 13-24.
The Limited-Edition Pride power bank is white with a Pride Flag heart design and it provides enough power (4,000mAh) for about 2x extra battery life for a smartphone. The Pride Limited Edition power bank features convenient fold-out wall prongs so it can be plugged directly into a wall outlet for recharging, no extra cable needed. The Pride charger only weighs 0.42 lbs., making it the perfect light weight power bank to stash in a bag or pocket for extra battery life while attending Pride festivities, traveling or everyday use.
Like all myCharge power banks, the Pride Limited Edition has 12 layers of battery protection, more than any other competing power bank company. To prevent overheating Active Protection is used to read the current and temperature to ensure there is no safety concern and Passive Protection uses a backup fuse that can respond to extreme temperatures and currents.
"We wanted to show our support for the LGBTQ community and let them know we proudly stand beside them. Pride Month is packed full of activities that will drain your phone from taking photos, posting on social media and using the GPS for directions. It's important that we provide the community with a safe and fun way to recharge without the risk of having the battery explode in their bag or pocket, which isn't uncommon nowadays," said Julie Pickens, VP of Marketing for myCharge.
The Pride Limited Edition power bank retails for $34.99 and is available for purchase on Amazon.
For more information on myCharge products, visit www.myCharge.com.
About myCharge
myCharge, innovators in portable power, create the ultimate portable power solutions for anyone, anywhere who needs to stay charged. Incorporating the highest quality components, cutting-edge design, and smart technologies, myCharge responds to the latest technological advances. myCharge provides products dedicated to restoring everyday balance and fulfilling consumer needs in today's on-the-go, always connected, digital society. Learn more at www.mycharge.com.