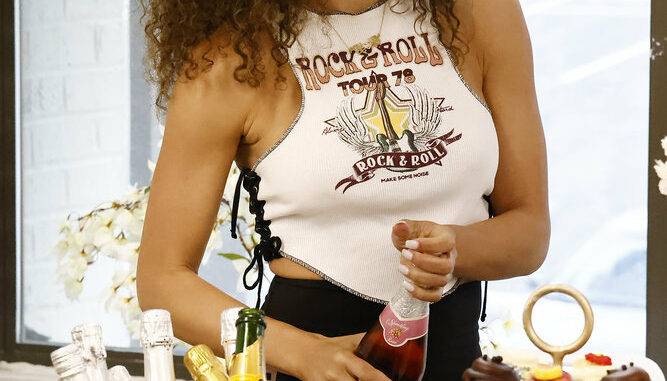 Read Time:
3 Minute, 3 Second
The Real Housewives of Potomac Snark and Highlights for 10/16/2022
If Mia chooses to share her cancer scare/diagnosis/health issues on social media, that is her choice. Some people want the prayers, advice etc. Some people choose not to share. There is no right or wrong answer on what to do in this kind of situation. Unless you have been in said situation, you have no right to comment.
Katie squeezing Ray's ass is…..a choice.
Is Karen reading her speech from her phone?
Also, I am ten minutes into this episode and realized we have yet to see taglines this season.
I like how Karen is doing her plastic surgery for herself, not to please anyone and that she wants to be an example for younger women.
I love the idea of freezing eggs, especially when you're a woman who is older. Trust me, if I could afford it, I would do it as well. I am in no way ready for children now, but I would like the option, Candiace has the right idea.
Ashley's sons are soooo cute!
I have a feeling Ashley and Michael are one of those couples who love each other, but aren't able to make it work as a married couple. They seem as of right now t be on better terms than they were when they were married.
I want a friend who serves me champagne when I visit.
Mmmm, a warmed up coffee cake sounds delightful!
I am glad Gizelle is owning up to the fact that she messed up.
Robyn is right, sometimes the delivery on what is said can be questionable.
I am not sure how I feel about Chris sliding into Robyn and Ashley's DMs. To me, it seems a bit weird and suspect.
Okay, I am on Gizelle's side with this. A man does not belong complaining about his wife to another woman. It is one thing if he texts happy birthday or something, but to meet privately to talk about his wife is inappropriate, unless it is planning a birthday surprise or something.
Mia reminds me of the girl who played Maxine on Family Matters (Cherie Johnson)….something about the way she looks and carries herself.
My heart breaks for Mia waiting to hear about her diagnosis. I have been in this boat and seeing the oncologist every three months (and being treated the same by some people) so I just want to hug her and give her support.
I would be PISSED AF if I got that text Mia got. I am mad on her behalf!
As an aside, how do you go potty wearing that gloved jumpsuit Mia is wearing for her confessionals? It seems like a pain in the ass to take off….and if you are on blood pressure meds and live on coffee, it could be a very bad situation, just saying.
'I am allergic to bullshit, that is about it!' Girl,  SAME!
Those cupcakes Ashley is serving need to be in my belly NOW! So does the champagne.
What tea does Charisse have on Karen? Also, for all she knows, Karen could have already been sick or she could have been busy and not able to respond to the text.
This dance class looks fun, but I am clumsy AF and would fall on my ass.
I am with Mia, there is NO response once you disrespect me. NONE AT ALL.
WENDY! Where have you been, girl? I love that she got to comment on the Supreme Court issues. She is so smart and inspiring.
WOW, the way they confronted Candiace…..just wow.
More next week, stay tuned!