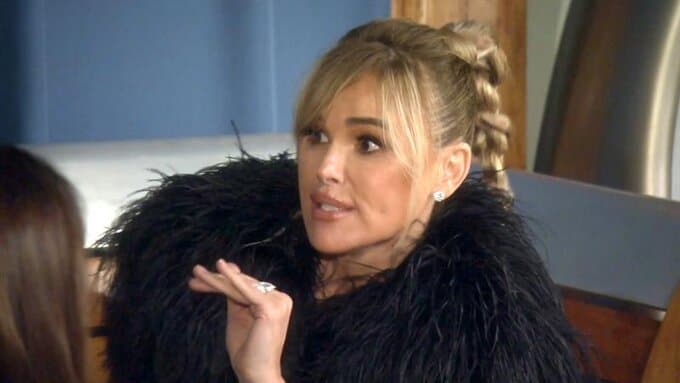 Read Time:
2 Minute, 53 Second
The Real Housewives of Beverly Hills Snark and Highlights for 7/6/2022
Why is Kyle questioning Sutton's miscarriages when she is trying to be empathetic to Diana's loss? Between that and Diana's smirk….it is disgusting. Calling it bullshit and implying that she is lying is even worse.
Now Sutton and Diana are hugging? What is happening right now?
Um, Erika realizes Oliver is married right? Garcelle looks so confused.
Now Erika wants a three way with Oliver and his wife? Poor guy doesn't know how to react. He is trying to be polite, but wants to get out of there as soon as possible.
Why was Erika cursing out Jax? He is fourteen and getting the flowers for his mom. He literally did nothing wrong. She is lucky Garcelle didn't go after her and that Jax was such a gentleman about it.
Garcelle is right to expect Erika to apologize to Jax and justified in being done with her.
It is really smart for Dorit to take self-defense, not only because of what happened, but because it is something every woman should know. I am glad Crystal is there to support her in the class.
As an aside, those extensions are not the best thing to wear to a class like this!
The food Sutton and Kyle are eating at their lunch looks delightful.
WOW, Kyle is something else when it comes to her apology….Sutton is trying to explain things and how she feels, and Kyle is making it about herself.
Hearing Kyle and Mauricio talking about their family expanding thanks to Farrah's engagement is so cute.
How are Kyle and Mauricio having so much trouble mixing STUFFING?
Seeing everyone's holiday is so sweet—especially since we got to see Teddi, Kathy and Kim.
Diana's daughter is so cute–I love how her birthday was on Thanksgiving. She also has the same walking toy as my goddaughter.
WOW, Diana and Lisa are going to trash talk Sutton….and of course Diana is going to exaggerate what actually happened. Lisa is of course using it as a way to go against Sutton even more.
How is Kyle bringing up her robbery ordeal different than Sutton bringing up her miscarriages.
Wait, wait, wait—Kyle, Dorit, PK and Mauricio are LAUGHING about the fact that Erika cursed out a CHILD by saying this is a genuine side of her they like to see? WTF?
Sheree needs to be a full time housewife next season–love her! I am so glad she has Garcelle's back.
I love Sutton, but she should have moved the party indoors.
Even if Jax were sixteen, it is still rude to curse at a child for no reason.
Erika plans on having one drink…..let's see how long that lasts.
Couldn't Lisa just take her shoes off? I'm sure Sutton could have lent her some flip flops or something.
Ah, so Sutton was able to get everyone flip flops….except for Kyle, who refused to change her shoes.
I love Rinna's shoes….and the coats Sutton is giving everyone to hear.
Isn't it rude to complain about the food the host is serving? It seems like it was a nice, light meal with dessert at the end.
Dorit is really struggling—she really needs to get help and I hope she gets it soon.
Is Lisa seriously trying to pick a fight with Sutton in her own home?
More next week, stay tuned!