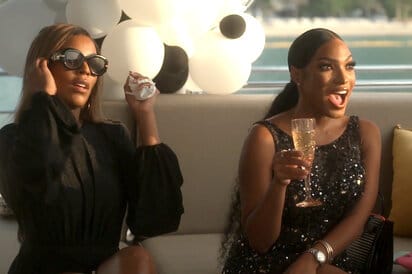 Read Time:
1 Minute, 21 Second
ICYMI: The Real Housewives of Dubai Snark and Highlights for 6/15/2022
This fashion show looks like it is going to be amazing. I am glad Chanel Ayan was able to help out using her own contacts.
Lesa apparently thought Chanel Ayan was two people due to the headshots.
I am enjoying the bond between Caroline S and Nina….they are so different, but somehow get along so well.
Nooooooooooooo Miss Goat ran away! I am glad they found her later, but still, that had to be scary.
This lunch looks so awkward….but Chanel Ayan is right, friendship and communication works both ways.
I never understood why these women constantly insert themselves in drama that is none of their business.
It is very interested learning about how the culture in Dubai is evolving and changing.
Sara is so inspirational in everything she does.
This sculpting procedure looks interesting, I am curious to see how it works and what it does.
I don't think making someone laugh during a stomach sculpting procedure is the best idea in the world.
Sergio is apparently the big brother stepfather for Caroline S's kids…..all righty then.
I hope this fashion show goes well for Lesa's sake. I have a feeling it is going to end in a fight though.
Even though Caroline S says she is fine, it is obvious she is upset about not being at the show.
Everyone going crazy over the French fries is such a mood….and now I want fries.
Despite some hiccups, it looks like the show was a success!
More next week, stay tuned!