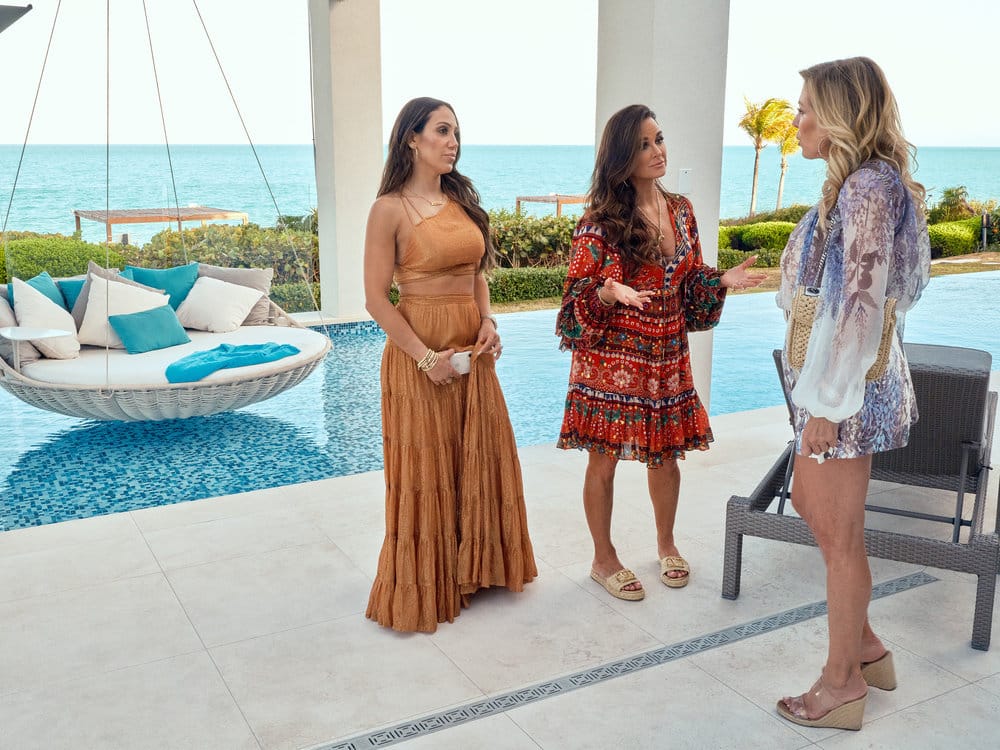 Read Time:
2 Minute, 53 Second
The Real Housewives Ultimate Girls Trip When Wives Collide Snark and Highlights
Beverly Hills: Kyle Richards
New York: Ramona Singer, Countess LuAnn De Lesseps
New Jersey: Melissa Gorga, Teresa Giudice
Atlanta: Cynthia Bailey, Kenya Moore
The ladies are all calling each other (if they are friends) and getting tea on the ladies who they don't know. It seems like most of the women are worried about meeting Kenya, while Ramona calls Teresa the Scarecrow because she 'has no brain.'
Teresa trying to figure out which character lacks what on the Wizard of Oz and trying to pronounce 'concierge' is adorable.
Ramona insisting that RHONY put the franchise on the map is bringing the snark from the other ladies. However, saying she has dementia is in poor taste.
It was so sweet of Cynthia to help Kenya feel better about leaving her daughter and deal with her divorce by having her cut the ribbon and giving her the master bedroom.
They are only on the plane and already Ramona and Kenya are fighting.
I am just as confused as Kyle on how this fight began.
The flight attendant is probably wishing she could get sloshed on the plane because she has to deal with this BS.
How did Ramona confuse Porsha and Kenya?
Teresa's sunglasses remind me of that old school Alfie robot toy.
Nip slip count: 1
Michael the concierge dude is HOT. If he is single, they can set him up with Kenya.
FINALLY! Ramona is being called out on her BS!
I hope Michael gets a raise or big bonus for dealing with these women.
Why would they walk in when Ramona clearly said she was in the shower.
Poor Michael seems so embarrassed with walking in on Ramona and being asked if he liked what he saw.
I agree there needs to be ground rules if they all want to get along.
Is Ramona SERIOUSLY asking Michael and the staff if she is wrong? At least Michael was being honest with her about how being direct could have rubbed the others the wrong way.
The food looks so amazing…I would eat before swimming too….even though I would love to look as hot as LuAnn.
They need to do a season of this with the househusbands from each franchise. Especially with the NJ men!
Ramona is BLUSHING when she is talking to John.
So Kenya is already leaking what is happening to the press…or is she having her friend doing it?
Are they seriously fighting over who will be in which car? At least LuAnn was smart enough to bring a book.
John is very handsome too. It looks like Ramona might be getting lucky on this trip.
Because I am RAMONA! WOW, that was….special.
LuAnn singing Ramona the Apologizer….epic.
I lost count of how many times the word 'asshole' was used in this conversation.
The way Cynthia explained to Ramona how she was wrong made me respect her even more. She didn't yell at her or shame her, just explained it as a friend.
I wonder how long this 'fresh start' is going to last.
I am pretty sure that if I took a shot every time Melissa and Kyle used the word 'vajayjay' I would be in ICU now.
The fashion on this episode is beyond amazing. I cannot wait for the blogs to post where to buy similar, budget friendly versions.
More soon, stay tuned!