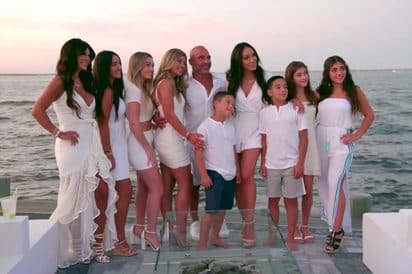 Read Time:
2 Minute, 21 Second
The Real Housewives of New Jersey Recap for Memorial Mayhem
Tonight's episode of The Real Housewives of New Jersey opens with Delores trying to get into a dress and asking Frank for help. She says she can't get it up and he says he sometimes has that problem.
Everyone else is also getting ready for a special dinner on the shore….complete with pre-drinking. Margaret says she is okay with Jennifer, as long as she doesn't start anything.
Once they arrive, however, they realize they have to separate because of COVID. It is boys at one table, the girls at another. As everyone enjoys time together WITHOUT fighting for a change. As an aside, I want to try that pear martini.
The good mood is short-lived, however, because the Lake George debacle with Melissa is brought up, causing some tension.
The topic changes to Teresa being single and the ladies giving her dating advice. The guys talk about their women and then the topic switches back to the night before, bringing even more tension.
In the car on the way home, Melissa and Joe fight because she walked ahead of me. He thinks she is changing, but she argues that she is trying to have something that is her own. He says they are growing apart, causing the fight to escalate. There is even more tension and awkwardness that before.
It becomes boys vs. girls in the house, with Melissa and Joe venting about the other. He says her success is changing her, while Melissa wants to grow as a woman.
Joe and Melissa continue to fight.
Teresa calls Audriana to make sure she has her white dress for tomorrow.
The next morning, everyone works out and eats, while still talking about the night before. Joe apologizes to the group, but is still fighting with Melissa, despite her trying to make things right. She decides to get the food ready and let things go for the time being.
The group goes out on a boat for lunch. Melissa and Joe's kids are now with them as well. Lunch seems to go well (despite the fact that Joe announced that him and Melissa had sex on the boat), but then everyone begins talking about Joe and Melissa again. Joe's female relator also keeps calling, which doesn't help matters at all. Melissa is not happy about this, but it turns out that Joe was just messing with her as payback for the time the girls punked him. He also thinks this means she is jealous and cares.
Everyone begins to get ready for the party. When they arrive, everyone admires the pictures of Mr. Gorga and mingles. Gia gives a speech, while flashbacks play, bringing the room to tears.
The episode ends with everyone tossing rose petals and celebrating his life.